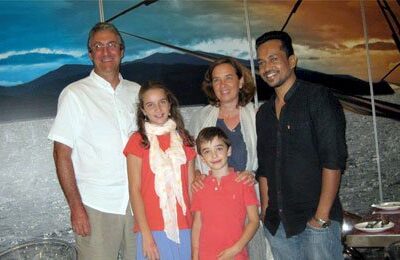 Dear New, Thank you so much for such a wonderful family trip!! Travelling with our children to India (Tamil Nadu & Kerala) was a great and amazing experience. Your constant attention throughout the trip was truly very reassuring. We could feel we had a very reliable "partner" before and during the trip. Everything was very well organised: hotels, driving, etc. and our children will never forget the elephant experience and the boat driving at the Backwaters. What a wonderful country and people! We all hope to go back soon and, for sure, we will count on you for organising it. Let's keep in touch!
Piquemal & family -
Barcelona, Spain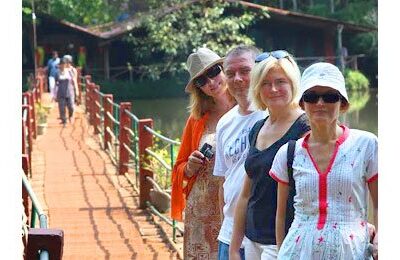 Dear Newmon This was our first trip to India And along with the Office of the Indian Journeys to us all organized-lived incredible moments ,which we never forget. Everything was professionally polished, driver-also our guide and guardian-was responsible and polite. Featured 100 percent, Revelation. Sincere greetings from Poland -Izabela, Jerzy, Barbara and Maria.
Izabela, Jerzy, Barbara and Maria. -
Poland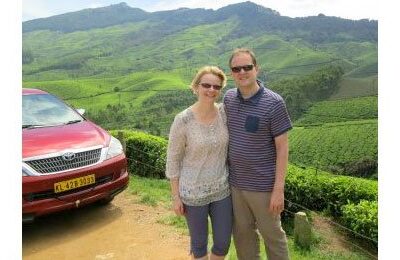 We very much enjoyed our trip to Kerala and Tamil Nadu in October 2014. Thank you for your patience with our many questions and changes to the program in the planning stages and for arranging such lovely accommodation and activities. A special thank you to our fantastic driver who's experience and skills shone through. We were in a very reliable, capable pair of hands. We have very fond memories of our wonderful time in South India. Thank you for helping us organise such a special holiday.
Amanda and Edmund Steele -
Wakefield / England
The holiday of a lifetime, perfectly organised by Newmon who adapted the tour to take in all the places we wanted to visit and cheerfully accommodated us when we changed our minds about anything. Our driver, Santhosh, was great - very helpful, friendly and always on time. The hotels were superb. We would highly recommend The Indian Journeys.
Alan and Nina White -
Sandbach, England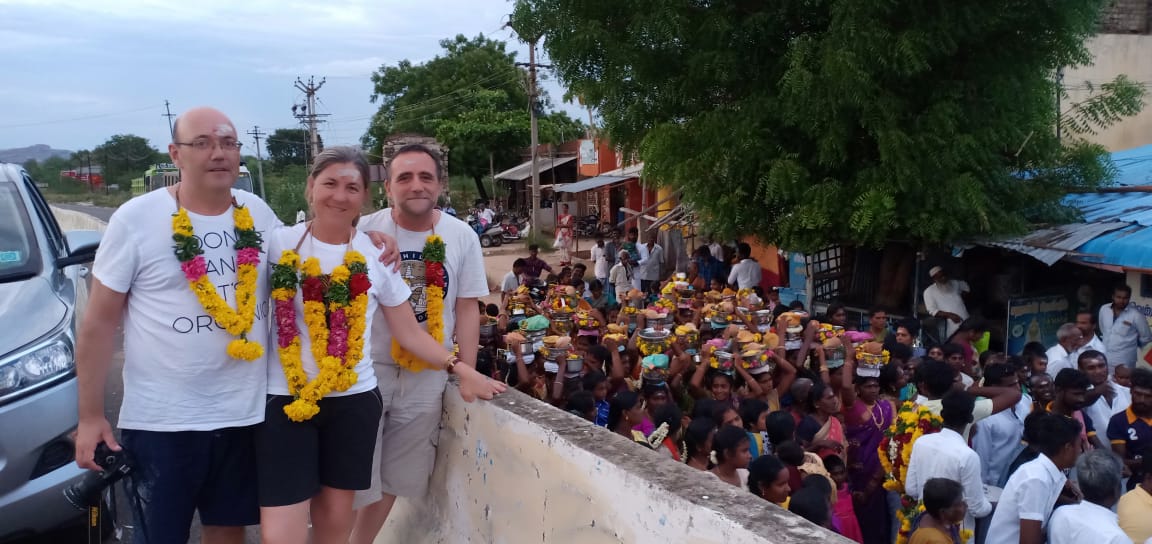 Our trip to south India was very well managed and supported by Mr. Newmon KD. The driver he choosed for us (Mr. Murali, kn_muralidharan@....) was also very efficient and qualified for his job, as well the local guides we met. On he other hand, hotels were not only confortable, even luxurios, but charming.
My wife and I have just returned from a sixteen night stay, including Leela Hotel Mumbai, Fortune Sullivan Ooty, Malabar House Fort Cochin and finally Leela Hotel Kovalam. All of our itinerary was organised by " The Indian Journeys" tour company to include accommodation, car driver and guide, excursions, domestic flights and Hill Station (Ooty) toy train, all very professionally. It was a pleasure to meet Newmon and felt like meeting and old friend. We hope to travel to North India next year and hope to get the same service from " The Indian Journeys". I`m more than happy to answer any questions.
Paul and Celia Rigby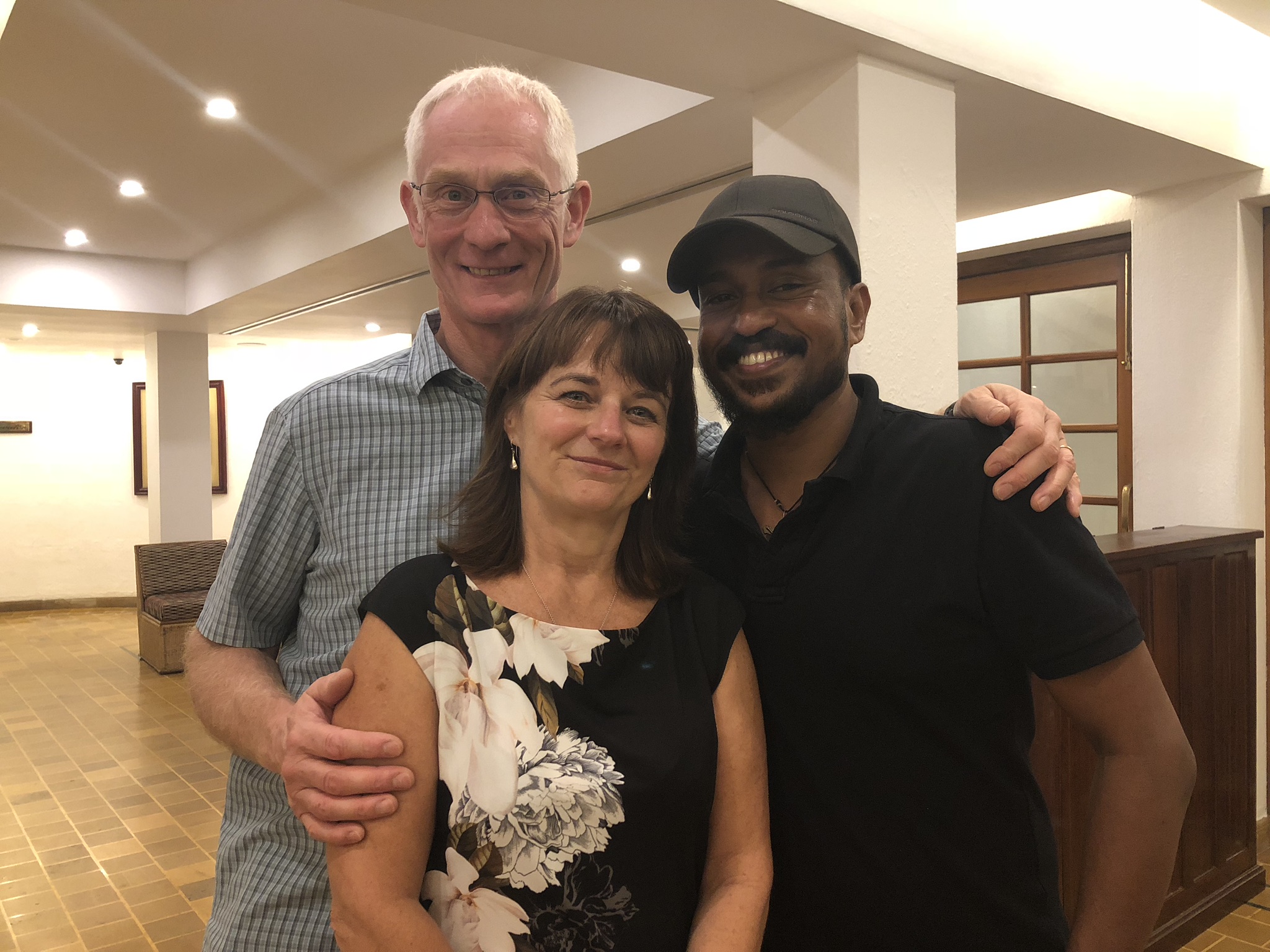 Nigel and I have used Newmon at The Indian Journeys to organise two holidays to India. The first one in 2015 was to Northern India including Delhi, Taj Mahal, Jaipur, Udaipur and the Golden Temple in Amritsar and Ranthambore tiger sanctuary. We didn't meet Newmon on that trip, but he phoned us every day to check everything was ok. He organised our driver, Krishna, who was superb. The second trip in 2018 was to Kerala where we stayed in Fort Kochi, Munnar, Thekkady and Marari backwaters and Kovalam with an overnight stay on a houseboat and again was such a good trip. I would definitely recommend Newmon to anybody who wants to experience India. He tailor made the holiday to suit our preferred dates and sites we wanted to see. The hotels were all top quality and the drivers on both trips were absolutely amazing and put themselves out to give us the best experience ever. Please book your trip with Newmon for the best holiday to India.
Janet Smith -
Newbury, England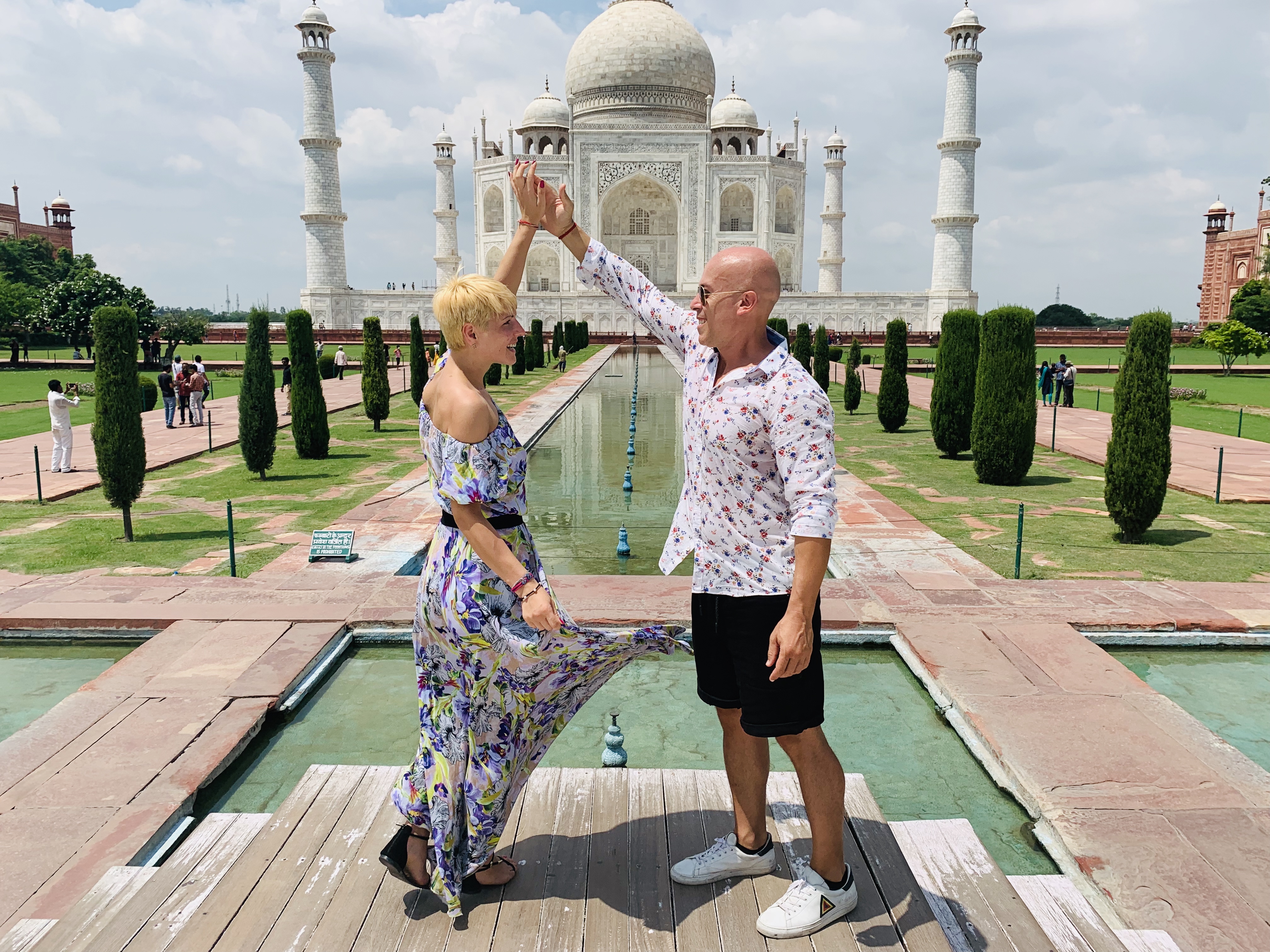 We have spent 13 days in india visiting Rajasthan and varanasi The indian journeys gave us a perfect service amd thanks to them we save a lot of money I really suggest them if you want to spend a relax time
Antonio & Tanya -
Salerno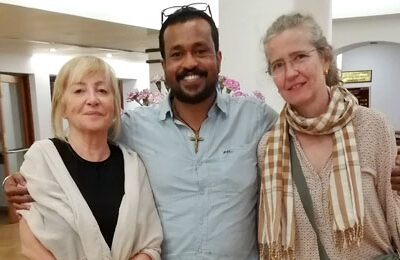 The trip that The Indian journeys, Mr. Newmon, organized for the south of India, the states of Kerala, Tamil Nadur and Havelock Island for 20 days, exceeded our expectations both for the wonderful passages and monuments visited, and for the quality of the hotels. Perfect itinerary, Sanish the driver, a charm of person, at all times was pending of us, and our preferences, his way was very safe and prudent. and organized by an excellent agency. Recommended one hundred percent!
Carmen Clotet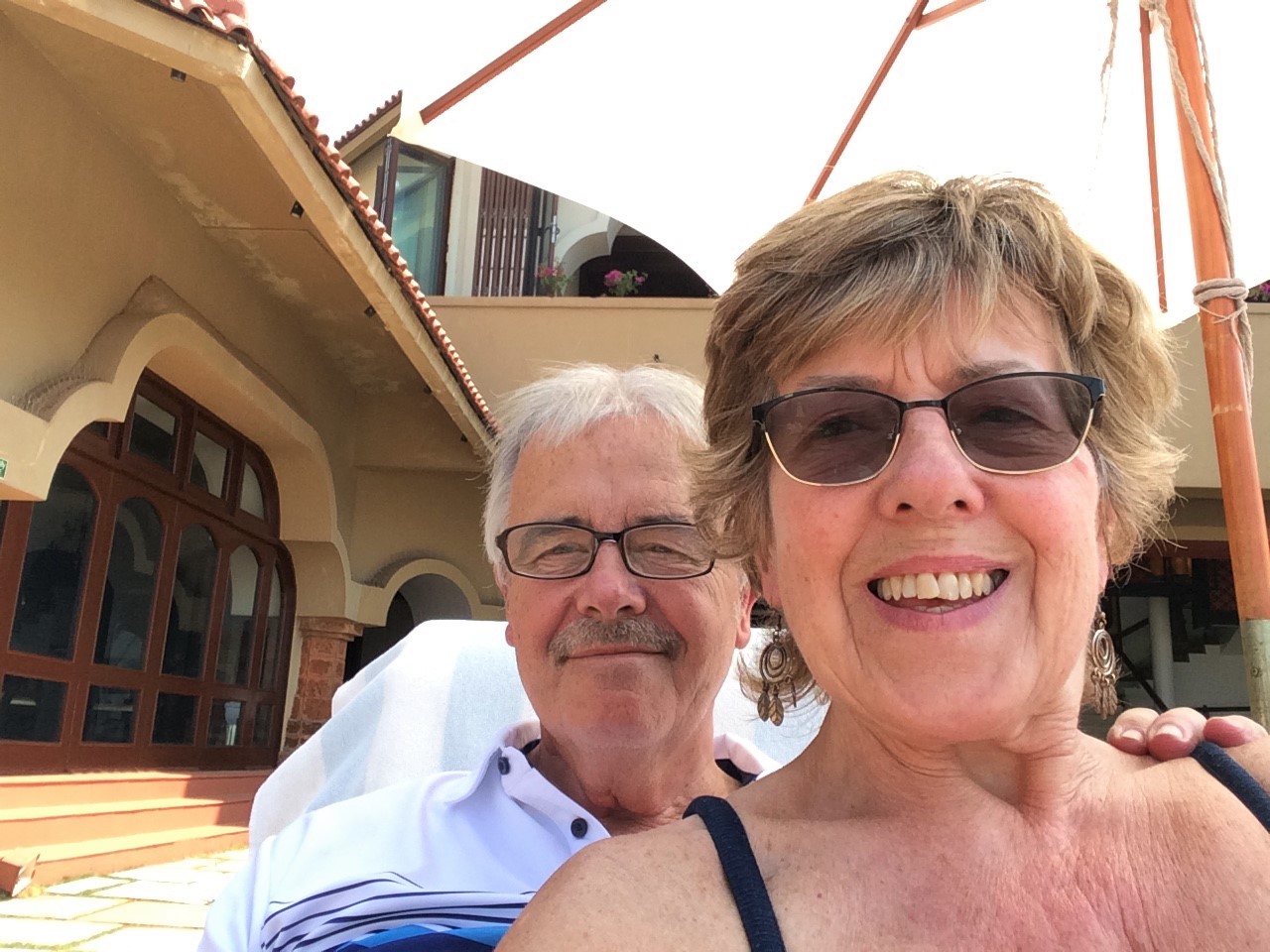 Another wonderful holiday in India, superbly organized by Newmon. Great hotels in Mumbai, Aurangabad and Goa. We had a tour of Mumbai after which we flew to Aurangabad to visit the Ajanta Buddhist caves, followed by two weeks at 2 different hotels in Goa. This is the second time Newmon has organized our holiday and we now look on him as a friend as well as someone we can completely rely on. Highly recommended.
Alan and Nina White -
Sandbach UK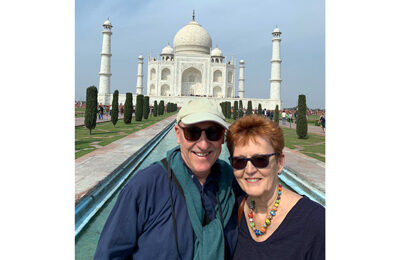 In February and March 2019, my wife and I spent our second amazing trip in India, courtesy of Newmon & his company, The Indian Journeys. This time last year, we had been in Kerala, Karnataka & Tamil Nadu on the trip of a lifetime: you may still be able to check out our review of that holiday on this website. This year, we wanted to visit Delhi, Agra & Rajasthan. Through email exchanges, Newmon put together another very special itinerary for us: we told him what we wanted and the places we wanted to visit, he made further suggestions, we built in rest days at wonderful hotels with swimming pools (Jagat Niwas in Jodhpur was particularly outstanding!) and we were accompanied throughout by Pawan, our driver, who proved knowledgeable, polite, obliging and, above all, he was a fantastically safe driver: he even took us to meet his family for chai on our way back to Delhi at the end of our tour! The forts and palaces of Rajasthan were truly awesome: yes, the Taj Mahal does take your breath away, no matter how many times you've seen it on TV or in photographs; the Amber Fort at Jaipur is staggeringly impressive despite the tourists (mea culpa); the camel ride to see the sun set in Jaisalmer was another highlight; a homestay with Parvati and Sudhir & their wonderful children in the Padmini Haveli in Chittorgarh is a must for anyone travelling into the west of Rajasthan - it's the only place within the fort where you can stay and it is soooo peaceful: we were the only people in the Palace on Sunday morning, apart from the security guard at the gate! Throughout our trip, Newmon would call us in the evening to make sure everything was running smoothly - he even flew from Kochi to Delhi to have dinner with us on our final night...this level of personal service is - in our experience - unsurpassed anywhere. The cost of the holiday was much less than we would have had to pay for a tour group holiday of similar duration arranged from the UK, and the fact that we had our own air-conditioned car & English-speaking driver, personal guides at each location and the highest quality of service all speak for themselves. We cannot recommend him and The Indian Journeys highly enough. Thinking of visiting India? Look no further, email Newmon today! Alan and Paula Walker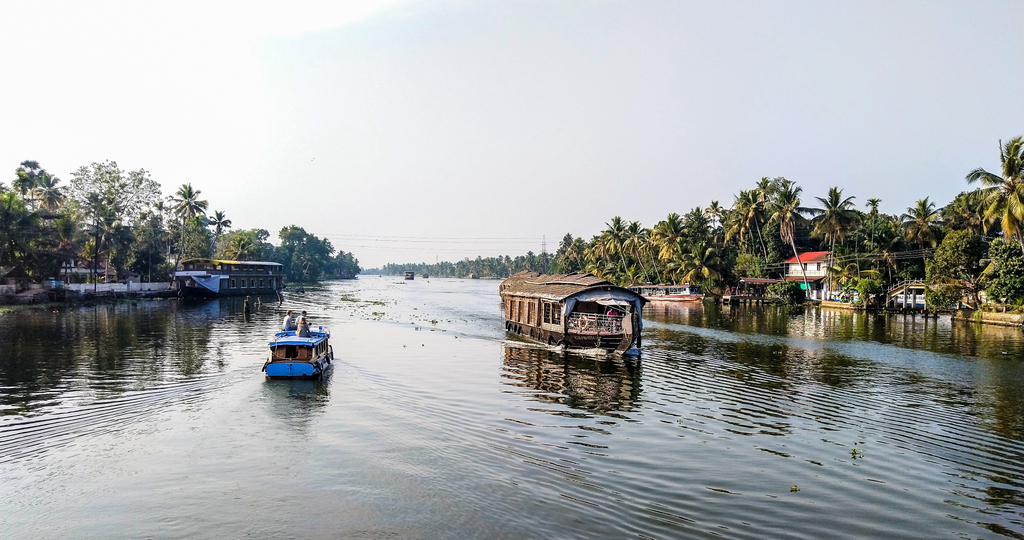 Whilst enjoying our 10-night stay in Agonda, South Goa, we looked into organising a similar length tour of Kerala. On the recommendation of a very detailed review on Trip Advisor, we contacted Indian Journeys. Within hours we had a reply from Newmon, with a suggested itinerary and recommendations for transportation from Goa to Kochi. Over the next couple of days we discussed by e-mail with Newmon various changes and alternatives, all of which were immediately carried out and with 48 hours we had a customised 10 day itinerary for our tour plus train tickets to Kochi. At this point we had not paid a penny! The overnight train journey of 14 hours was an experience in itself. We travelled 2nd class AC (all 1st class was booked as it was a public holiday), which if a little scruffy was clean enough and very comfortable. We ended up with 4 berth compartment to ourselves and slept most of the way. We arrived at Kochi station well rested and were met by Newmon. He then introduced us to Hari our driver (more about him later) then took us for lunch before transferring us to our hotel. After a city tour of Kochi we set off the next morning with Hari to begin our tour. Hari was an absolute delight. First and foremost (and essential on India's roads) he was a very careful and steady driver. His seven year old car was immaculate and clearly very well maintained. Hari was a mine of information about the local culture, history, industry and much more. In particular he was an avid bird watcher and keen photographer and we learnt so much from him during our 10 days together. The tour cost covered all hotels with breakfast, plus full board on the houseboat. All tours and entrance fees were include, apart from two or three, which were clearly listed as options at our expense. Newmon contacted us almost every day, by phone or text, to check that we were happy and to deal with any issues that might have arisen. On our final day, a 4:00 start from Marari to get to Kochi airport, he met us on the road at 6:00 just to say goodbye! Apart from one hotel, where the food and service were somewhat lacking, everything about this tour well exceeded our expectations, not the least our wonderful driver Hari or Newmons's attention to detail and personal service. At the end of the day, it is the people involved who make the difference between excellent and outstanding and that was certainly the case here. The overall cost of the tour was very reasonable and compared very favourably with tours that we had considered booking from the UK before leaving for Goa. Overall, we would not hesitate to recommend Indian Journeys and would definitely use them again in the future.
Paul A Burnett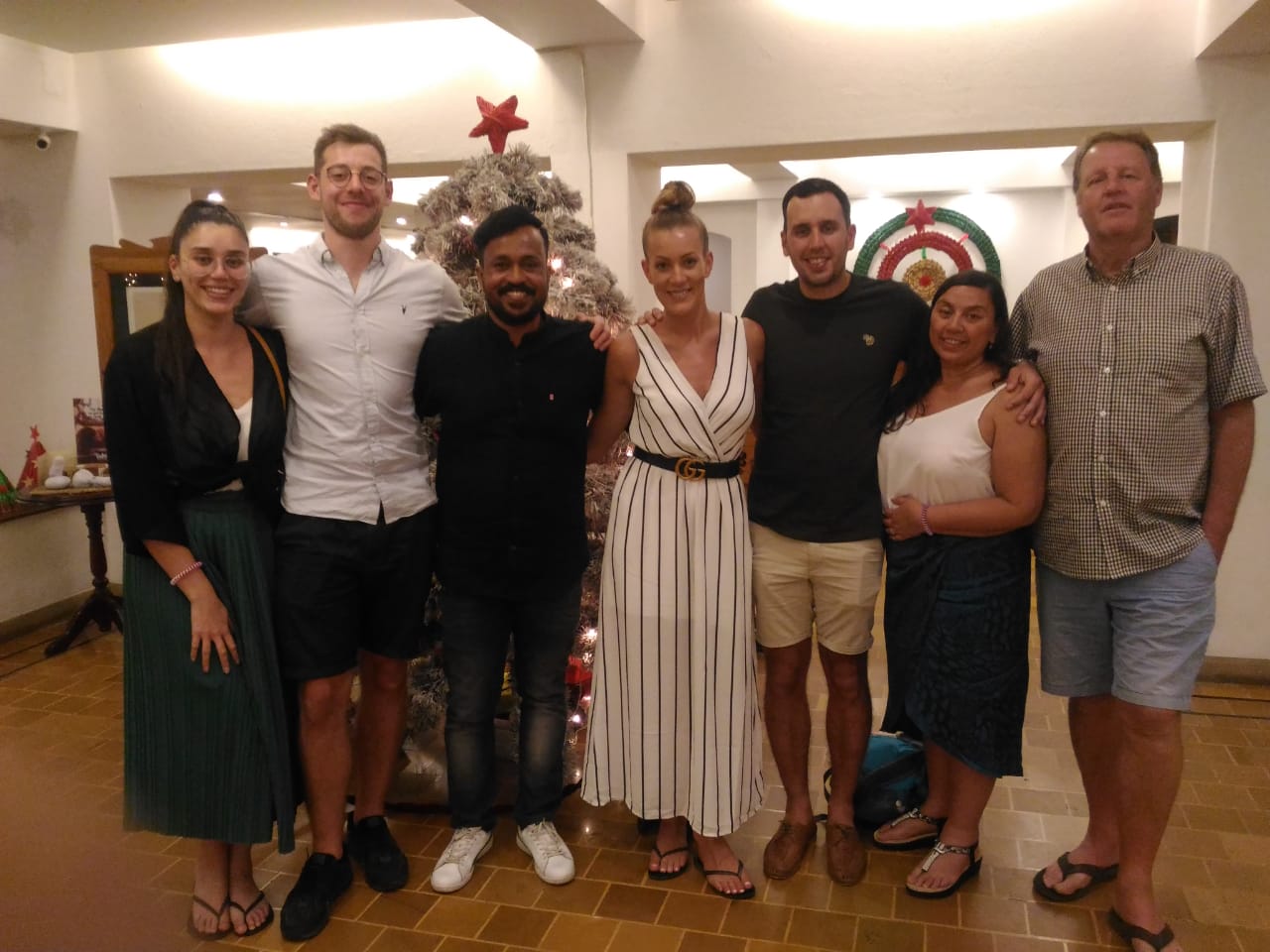 I would highly recommend using Newmon if you want to discover India. We were a party of six who came to Kerala from London, our trip was 13 nights in total over the Christmas and New Year period. Firstly, when organising the trip, Newmon was incredibly patient and accommodating with all my many changes and additions I had whilst creating our tailor-made itinerary. He always replied quickly and professionally to my emails. Using his local knowledge, Newmon was able to suggest and advise on certain areas to visit on the tour, without forcing anything upon us, truly creating our perfect trip. The tour itself was fantastic! Kerala is a beautiful state and the people are incredibly accommodating and friendly. The hotels we stayed in, especially the ones in the mountains, were fantastic with breath-taking views. Our driver, Mr Jerry George, went above and beyond his duty, being there for us whatever the need was. It was a complex trip Newmon had to organise, with two parties arriving on different days at different locations, which he managed very smoothly. There was a minor issue at the start, which Newmon resolved quickly in an expert manner. He also arranged a few surprises for us along the way! If anyone wants to contact me further regarding our trip, please ask Newmon for my contact details and I will be happy to answer any questions you have regarding The Indian Journeys. Thank you again Newmon, the trip was truly memorable.
James Fletcher -
London,UK
Dear Newmon It is said that the destiny has planned everything for us. That was what I experienced when I travelled with you "The Indian journey" - ITJ. The only difference was that on tour to kerala "Gods Own Country" everything was planned by ever smiling Newmon. I had mailed my requirements to 4 to 5 tour operators from kerala. Everyone has responded except Newmon. I thought that he might just be catering to foreign tourist. Then after a month I got a call from him, he explained me that my mail had gone in SPAM folder & so he could not respond. After that first call I had a hunch that we are going to travel with his tour company only. The hotels that he recommended & tour cost vis-à-vis the 3, 4 & 5 star properties that he had suggested was the least of all the travel agent that I had contacted. The price difference was nearly 10 to 15%. Initially 14 of us were going to travel together but due to some issues the group was reduced to 10 but just 3 to 4 days prior to our reaching at kerala the group had again increased to 14. He made all the required changes at eleventh hour. He arranged the additional room at all the thotel/resorts, bigger traveler for us, arranged can of water, removed the last row seats of traveler & so on… The tour guide & driver Abdul Gafoor provided by ITJ was also a gem of a person. Some of the hotel/resorts recommendation from him were just spot on like…. 1. *** -The Seashore at Kanyakumari 2. **** - Travancore Heritage at Kovalam 3. **** -The leaf at Munnar ( got free upgrade rooms) 4. ***** - Elephant Court at Thekkady I would also like to add that the one at Kochin (Abaam - ***) & Alleppy (Deshadran -***) was just below par but the latter one was my own choice. He had suggested me Citrus which I think would have been much better choice. Some of his recommendations were not on our list but we relied on his local knowledge & all those recommendations were above our expectation. The most important factor that made such a lot impact on us was the fact that he took 80% of the total tour cost on the last day on our way to Airport. I had not seen such a travel agency who totally believes in their work. He did not knew us, just a few calls & mails. I think it can be done only by Newmon & ITJ Again a lot of thanks to Newmon for making our tour to "Gods Own Country" a memorable one…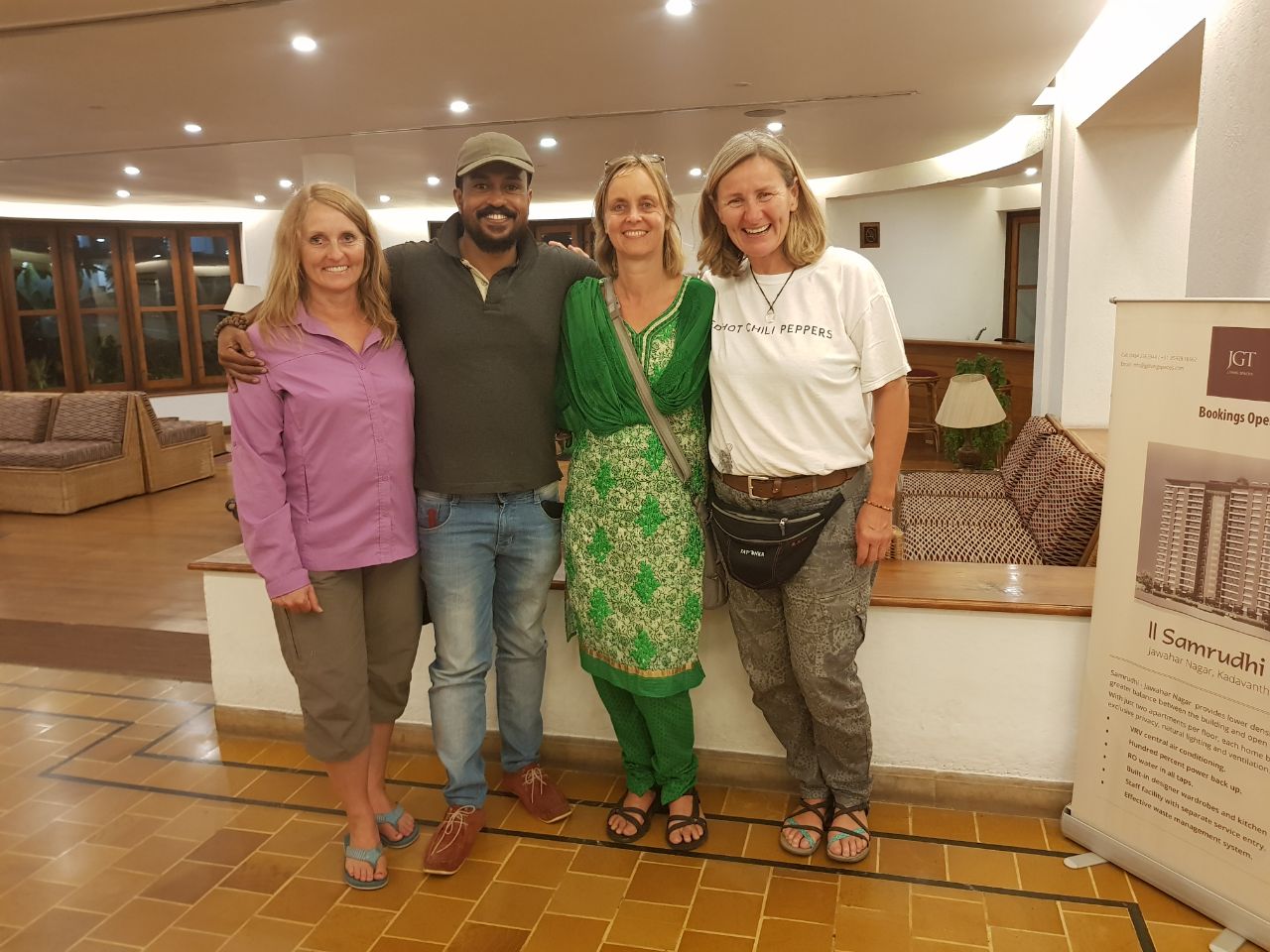 Hello Newmon,We would like to tell you a few words about our journey in India, which you have put together for us.By a recommendation from the circle of friends, we came to Newmon theindianjourney.Via email, we have offered different variations of the journey.The correspondence was very understandable and well structured so thata decision was well possible for us. He organized everything, transfers, accommodation, sights and was always always by phoneto reach. He always inquired about our taxi driver how we are doing andif we are satisfied.It was our first trip to South India and we were very happy that Newmon organized everything for us. In between we had enough time alone a fewSightseeing, Land and People.There were many exciting, exciting, beautiful and thoughtful onesMoments, Situations in South India.We would like to thank Newmon again for the good organizationand wish him still many guests who want to discover India with him.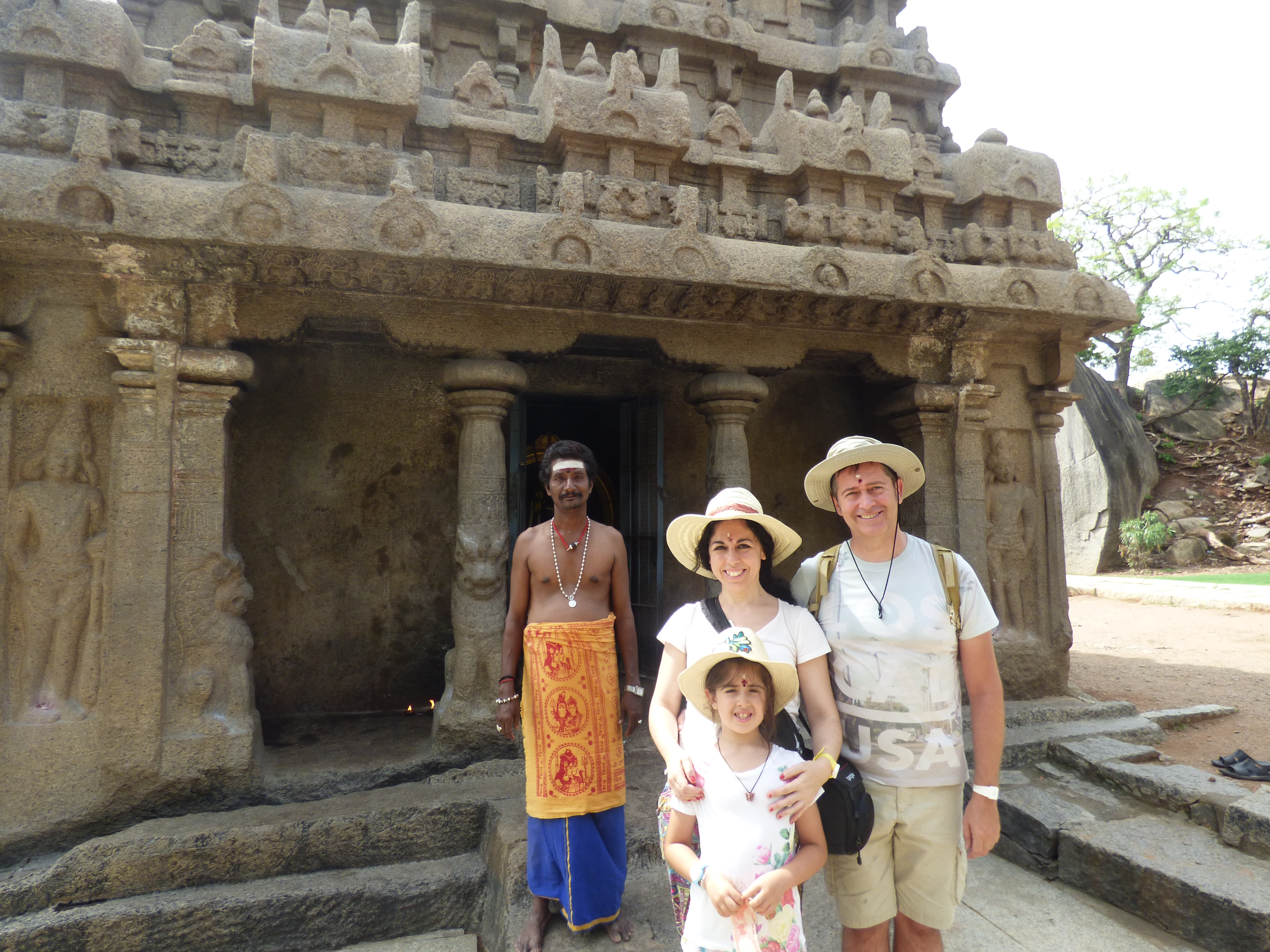 Somos un matrimonio de España con una niña de 7 años. Este mes de Agosto estuvimos en el Sur de la India y en Sri Lanka en un maravilloso viaje organizado por la agencia 'The Indian Journeys' con el inigualable Newmon, con el que definimos un viaje a medida muy intenso con todas nuestras extravagantes peticiones (incluyendo un rafting); atento a todas nuestras necesidades durante todo el viaje. Tanto Dileep en India como Neil en Sri Lanka, nos llevaron de manera impecable por los mejores templos y ciudades, y no solo cumplieron perfectamente con lo indicado en el programa, nos propusieron lugares y actividades sumamente interesantes, que completaron la experiencia e hicieron que fuese un viaje inolvidable. Dileep nos llevó de Tamil Nadu a Kerala recorriendo las principales ciudades, llenas de vida y buena gente. En Kerala hubo fuertes lluvias que complicaron mucho la situación, pero tanto la agencia como Dileep buscaron la manera de reorganizar el recorrido para que pudiésemos ver lo más importante y continuar el viaje en Sri Lanka según lo programado. Fue una situación excepcional y muy difícil que supieron resolver a la perfección; una vez más, mil gracias a los dos, estaréis siempre en nuestro corazón. Con Neil recorrimos lo más importante de Sri Lanka en 14 días, sin ningún contratiempo. Siempre presente en todos los sitios y atento a todas nuestras necesidades, como un verdadero padre, al igual que Dileep. Los templos en el Sur de la India y Sri Lanka son una auténtica maravilla arquitectónica y espiritual, lugares sagrados para muchísima gente, muy especiales y aunque son menos conocidos que otros monumentos importantes en la India como el Taj Mahal, son una verdadera joya que los hacen verdaderamente especiales, de lo mejor que hemos visto nunca, y hemos viajado mucho. Gracias 'The Indian Journeys', gracias Newmon, gracias Dileep, gracias Neil, y gracias a la gente de India y Sri Lanka que nos ayudaron en todo momento, y que sin ellos no hubiésemos podido disfrutar tanto de este maravilloso viaje. Hasta siempre.
Roberto, Marisa & Paula -
SUR INDIA & SRI LANKA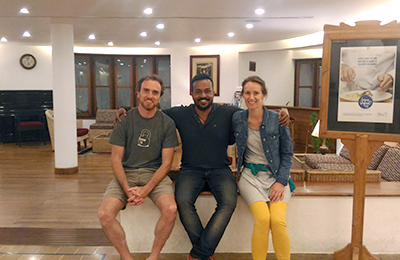 There is lots to recommend about experiencing Kerala through Newmon's organization - the time he dedicates to tailor making the trip to suit your interests in the lead up to the trip, a helpful, understanding and experienced driver; his hospitality when you meet up with him in person; and more. The one thing that stood out for me, however, was his connections with great guides - among some of best I have had in all my travels - and delightful places to stay. I thoroughly recommend Kurialacherry house for a real sense of the backwaters. No big international companies involved - just getting to know Kerala through local eyes and supporting local businesses. And it works out economical too! So I have recommended travelling in Kerala with The Indian Journeys to all my travel-hungry friends. Thanks to Dad and Jeff for their 'pioneering' travels through Newmon in the first place! Go well all!
Mr.Robin Barden & Ms.Laure Ritter -
Barcelona / Spain.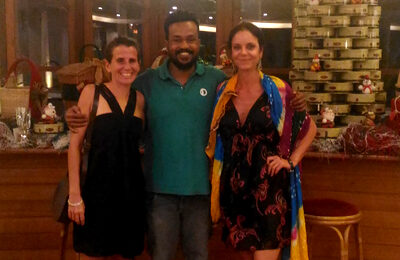 Esta es nuestra experiencia;dos chicas españolas por tierras del sur de India... Pensamos en ir a India un mes y medio antes de nuestra partida. Buscamos en internet muchas agencias...y entre todas,nos dejamos llevar por THE INDIANJOURNEYS;no teníamos referencia de ningún amigo,así que le enviamos un mail al señor Newmon, y desde el principio nos pareció alguien especial. Alguien a quien le gustaba su país y quería enseñarnos todos lo bueno que entrañaba India. Desde el primer momento sentimos que era buena gente,que no pensaba en su beneficio propio... Del viaje,por las dos semanas que teníamos de vacaciones, no teníamos muy claro qué era lo que queríamos visitar...El País es muy grande para visitarlo todo....en dos semanas.... Así que nos dejamos guiar. Durante la preparación del viaje,mantuvimos contacto directo con el señor Newmon,a través de mail , casi a diario.... Cambiando cosas del itinerario....y en todo momento, él estaba dispuesto . Nos aconsejó según nuestros gustos... Luego llegó el presupuesto, súper ajustado a lo que teniamos pensado en un principio, hoteles, forma de viajar,excursiones,condiciones....INSUPERABLE!!!!!! Comparamos con otras agencias locales y de España .... No encontramos agencia igual. Así que finalmente nos decidimos x Newmon Atención súper personalizada;nos explicó todo el itinerario por mail/formato papel. Todos los conductores súper profesionales; atención personalizada de primera calidad. Como en casa!! Desde luego,todo un acierto y satisfacción plena. Sin duda,volveremos a India y repetiremos con el señor Newmon. Muy cercano. Todos los días nos llamaba para ver si estábamos contentas...Experiencia única. Una forma de viajar por India muy segura y con unos estupendos profesionales. Para despedirnos, quedamos con el señor Newmon la noche antes de partir. Todo había salido mejor que si lo hubiéramos soñado Muchas gracias Newmon!!!ha sido un placer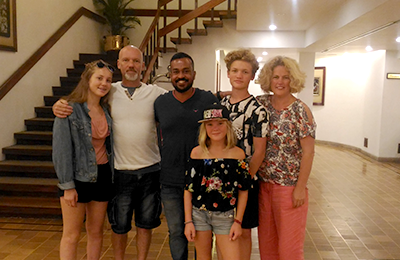 We used Newmon at "The Indian Journeys» tour company for our 3 week no stop tour of India, which included Delhi, Agra, Jaipur, Pushkar, Jodhpur, Udaipur, Kochi-Thekkady, Marari. He arranged all the hotels and transport, internal flights, the lot !!!! We had our own personal mini Van with our superb driver Pavan. At each stop we had a personal guide to tell us the history of the area and what we were seeing. There was no way we would have seen so much if Newmon had not organized our time so well. We have made lifelong friends on our journey, and would recommend Newmon to anyone, who wishes to as much of India as humanly possible in 3 weeks. Thanks again Newman, hope too see you soon.
Ian, Viv, Erin, Conor and Kerry -
France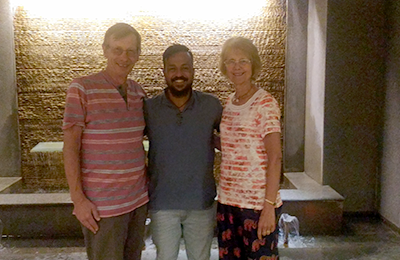 We approached Newmon at The Indian Journeys because we wanted to go to India but we wanted to experience some of the 'real' India as well as the sites and the Golden Triangle. Consequently we didn't just want a tour out of a brochure. A very good friend suggested Newmon at The Indian Journeys and the rest is history. Newmon really helped us sorting out our vast wish list. This was done by a series of emails. We appreciated his honesty and the way he evaluated various options for us, always giving us the final choice. Once agreed, Newmon quickly put things into place organising the internal flights, heritage hotels, informative guides and a very helpful driver. The result was a trip of a lifetime. One of the things we really appreciated was the regular contact whilst we were in India. Newmon phoned us very frequently to ensure that all was going according to plan and that each day had been successful. We found the whole experience way beyond our expectations. We learnt a lot, saw a lot and met some amazing people from all walks of life. We most certainly would not have had all these memorable experiences if we had organised the trip any other way. We would thoroughly recommend Newmon and The Indian Journeys to anyone who is contemplating going to India.
Lesley and Richard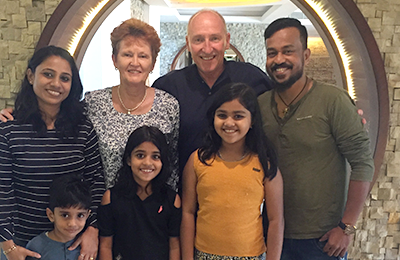 We travelled to Kerala, Karnataka and Tamil Nadu for four weeks in January and February 2018. Newmon at The Indian Journeys had been recommended to us by a friend here in Bedfordshire. Since this was our first trip to India, we were unsure of the best way to travel between different places of interest, and the prospect of Newmon's air-conditioned Toyota Innova with our own driver - from start to finish - seemed too good to pass up on … and so it proved. It took us about four weeks of emailing back and forth to finalise our itinerary: we listed what we wanted to see and do, Newmon suggested some ideas of his own and what we ended up with was a truly splendid, unforgettable holiday: from the exquisitely carved temples of Belur and Halebidu to the mini-safaris in the wildlife sanctuary at Kabini (where we saw both a tiger and a leopard, as well as elephants, various deer, wild dogs and dazzlingly coloured birds), from the famously illuminated palace at Mysuru to the Poinsettia-bordered tea plantations of Munnar, and onwards to ride on the renowned Ooty Hill Railway, from the peace and tranquillity of the backwaters around Aleppey to the r and r of the quiet Marari Beach and finally to the spice capital of Kochin, everything was a highlight! Our accommodation was always first-class (though, at our request, not always 5-star!) and spotless, with food of the highest quality, whether we were in boutique hotels, such as Kaav (in Kabini) and The Leaf (India's No.1 on Trip Advisor, Munnar), or in homestays – Stephen & Manjula's "home from home" at the Mysore B&B, as well as Jacob's hospitality at Kuriallacherry House in Kumarakom. Everyone we met was charming and welcoming: village children keen to try out their English-speaking skills and drinking chai masala with the locals at sunrise in the backwaters will remain long in the memory. A massive thank you to Newmon for organising our holiday and for his regular evening phone calls to make sure everything was running smoothly for us, and thanks also to our knowledgeable & friendly driver, Praveen, for whom nothing was too much trouble. I would recommend Newmon & The Indian Journeys unreservedly…we shall be back!
Alan and Paula Walker -
Bedford UK
It was an unforgettable trip. Newmon organized everything very well and made everything very easy. the wonderful hotels the driver very good and good driver and very attentive. we will repeat sure with theindianjourneys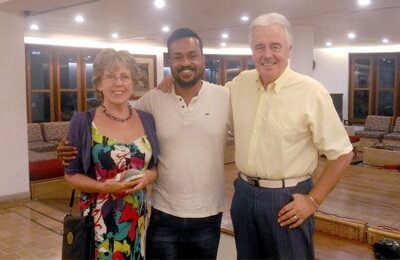 The holiday of a lifetime - perfectly organised by Newmon who adapted the tour to take in all the places we wanted to visit and cheerfully accommodated us when we changed our minds about anything. Our driver, Santhosh, was great - very helpful, friendly and always on time. The hotels were superb. We would highly recommend The Indian Journeys.
Alan & Nina White -
Sandbach, Cheshire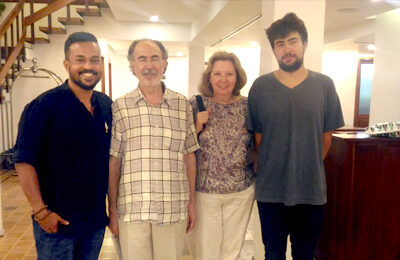 We did a 15-day tour of South India with The Indian Journeys in June. The organization was perfect, the drivers excellent, the hotels fantastic, and India did the rest to give us a wonderful holiday.
Mr.Ramon Palencia & Family -
Madrid / Spain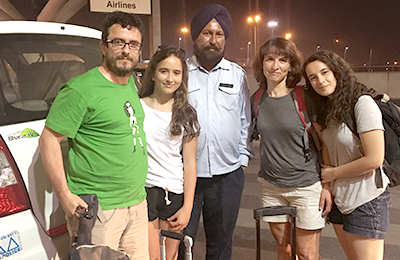 Hi again Newmon, We wanted to thank you and tell you that our experience in India was fantastic and your contribution was essential. We loved the possibility of having everything arranged in advance while at the same time having flexibility and doing this tour sort of on our own, always assisted by your expert personal. It was the perfect mix of travel agency service with room for our own way of doing things. Everything was perfect and the careful preparations we did beforehand guided by you worked great. A wonderful experience!
Collado-Rivas family -
Madrid / Spain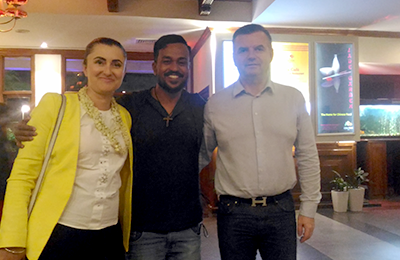 It was our first trip to India... we had only a few days there to spent - ca. 10. So it was really hard to plan our trip - because we wanted to see as much as possible in this short time period... at first I tried to do this by myself... but then I have heard from our friends about their trip to India and about The Indian Journeys and Newmon and how happy they were with their trip. And then we have decided with my husband that we want Newmon and The Indian Journeys to plan the whole trip for us. And it was the best choice and decision. Newmon has planned whole trip, send us the itinerary, we have changed some things and then accepted it. And then he has organized our full trip plan - with English speaking local guides, hotels, car transport, flights and many more... 🙂 Everything was just ATTAINED TO THE LUST BUTTON. Really. We saw everything we wanted - we were on safari, we were in the jungle, we have visited many historical and sacral places, but on the other hand bazaars. We were in the mountains, we were by the sea. We saw tea plantations. We have tasted Indian tea. We have travelled with historical train - a special route. We have tasted delicious Indian food and drinks. We have heard from best chosen local guides ( many of the were licensed Lonely Planet guides ) so many information and curiosities. And this all thanks to Newmon 🙂 Additionally he was always there for us - in case we needed help or had a questions. He was calling or texting us every day to ask how the trip goes and how was our day. It was really nice. And on the last day we met with Newmon and have eaten a dinner together. It was really VERY NICE to meet him after our perfect- organized journey! We will definitely come back to India and only with Newmon! I highly recommend THE INDIAN JOURNEYS AND NEWMON.
Dominika & Artur -
POLAND / EUROPE
We used "The Indian Journeys" Tour Company in January 2017 for tours whilst on a cruise. If you're like my husband and I you will hate the cruise tours, waiting for people to get back to the coach and everything taking so long! This tour company was very good, comfortable cars with our own driver and tour guide. We used the company three times and found both the driver and tour guide very nice on all three tours. The drivers were very attentive to my disability and the tour guides were very knowledgeable. It's certainly a lot nicer way to get to know the place you are visiting and of course you learn a lot more than you would on a coach full of people as this is one to one. Obviously it costs more, but in my opinion well worth it.
Judith and Robin -
Judith and Robin / United Kingdom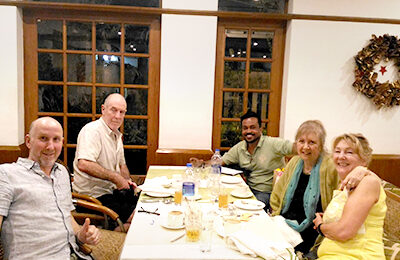 Yes, twice in the last three years. Absolutely wonderful in all respects. Newmon will arrange a tailor-made trip to suit your requirements. He provided the four of us with a 15 seater air con minibus with our own driver from start to finish (who new where to procure beer!). Everywhere we stayed was superb, from a magical homestay to the traditional luxury of Marari Beach and Kaav Lodge The lodge was a fabulous way to conclude our three weeks; atmospheric and maybe the most magical place we've stayed in. Options to join 3 or 4 safaris and see a huge variety of wildlife - including a tiger from 20 metres. Newmon is a great communicator, always patient and prepared to adapt and change until days before the holiday. Price is much better than any deals we could find on line. Several of our friends have used The Indian Journeys, two of them are out there now experiencing a carbon copy of our itinerary and all would share our enthusiasm. We booked our flights using Sky Scanner (Etihad) for £408. Could go on at length but must pay tribute to the delightful Kerala people, the scenery and maybe the best food you will ever eat.
Laura & Pete, Carol & Martin -
Wootton / United Kingdom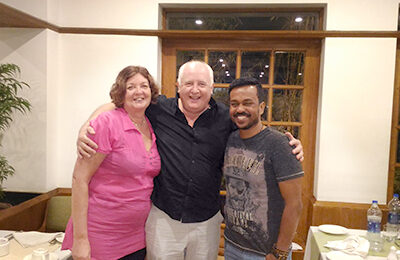 We were recommended the services of Newmon and his company 'The Indian journeys' by friends who had travelled with him twice before. We have been on a number of tours, usually using the major travel agents such as Trailfinders etc. The care by the owner of the company before and during our holiday was outstanding, taking us out for a meal on our first night and ringing us nearly every day to make sure all was well was outstanding service. The combination of hotels and home stays was well balanced and without exception, good value, with wonderful food at all. Changes to our planned itinerary caused by a fire at one of the wildlife reserves was dealt with quickly and efficiently without any fuss. The driver we had for 3 weeks (Christo) made the holiday the experience it was . Driving us safely around the sights of Kerala, helping us to get cash from the ATM machines and obtaining beer from the state run outlets without spending hours in the queues........ At all times we felt secure in the knowledge that our tour had been organised by a professional and local company. I would without hesitation recommend The Indian Journeys if you are considering a trip India.
Hilary and Peter -
Felmersham / United Kingdom
My husband and I went for a 12 days trip to India. We visited the Golden Triangle Khajurao and Varanasi. We talked to a few companies recommended in different travel forum and we decided to go with The Indian Journey. It was a good choice, price fair and very good attention. We decided together the best itinerary that was adjusted to my budget as well as interests. Hotels were good and new. Drivers, guides and representatives in all the places were very nice and suit to our needs. I really enjoyed the trip and we also knew very nice and sweet people! Thanks for a very nice travel! If I ever go back to India I'd definitely use TIJ services again!
Lucila and Christian -
Buenos Aires, Argentina