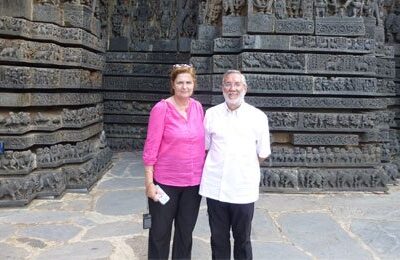 We have returned from a 24 day long trip to South India, which has been a success. The itinerary was arranged for several weeks with Mr. Newmon, of The Indian Journeys. He booked us the 10 hotels for 22 nights and he provide us two cars with driver, one in Maharastra, and another from Hyderabad to Cochin. The driver waited us in every case at the airport's arrival with the hotel vouchers and a description of the places to visit each day. The two drivers were very useful to us as guides and as protectors, particularly the second, Mr. Santosh. The hotels were of good quality and very well located. Being able to travel by private car with a driver that was at our service at all times was very useful and made us gain a lot of time in our many drives, which would have taken twice as long with public transport in a country so large and unknown for us. The director of the agency, Mr. Newmon, called us many nights to supervise the good progress of the trip. And so it was, we ended up very happy. For all this I must thank very sincerely The Indian Journeys and its director for his great help in the realization of this trip that we will not forget. Enrique y Maria Jesús. Sevilla, Spain
EnriqueT -
Seville, Spain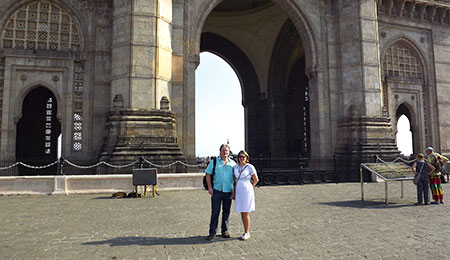 My wife and I have just returned from a sixteen-night stay, including Leela Hotel Mumbai, Fortune Sullivan Ooty, Malabar House Fort Cochin and finally Leela Hotel Kovalam. All of our itineraries was organized by" The Indian Journeys" tour company to include accommodation, car driver and guide, excursions, domestic flights and Hill Station (Ooty) toy train, all very professionally. It was a pleasure to meet Newmon and felt like meeting and old friend. We hope to travel to North India next year and hope to get the same service from " The Indian Journeys". I`m more than happy to answer any questions.
Mrs. Celia and Mr. Paul Rigby -
St. Albans, / U K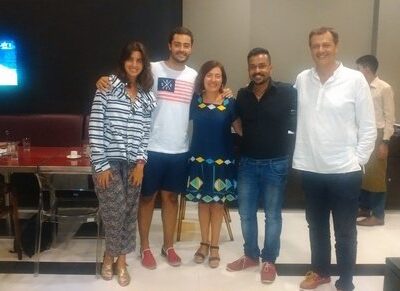 Dear Newmon A few months ago I read in your web "Athithi Devo Bhava" (The guest is equivalent to God) and although I knew through a person who offers me all the guarantees, I thought, we'll see what happens. Yesterday we arrived in Spain after eleven unforgettable days in the south of India and, indeed, we have been treated as gods. Personal attention, professionalism, efficiency, perfect hotel, suitable guides, and Yomi, our super-conductor, always attentive, aware of everything, and breaking through without any problem through the traffic so special that exist in India. Our thanks to you, Newmon, for your professionalism and attention, for your calls during the trip to see if everything was OK. Obviously you always recommend you to high punctuation and wish that all your dreams they fulfill in that magnificent company you started.
Jose Maria (Family Ramos)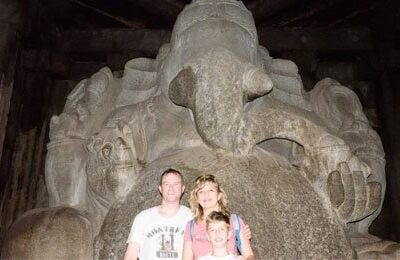 Recommended by a friend, we chose Indian Journeys for our first family trip to India. Thank you very much Mr New Mon for this wonderful trip!. What a profesional and well run business!. Drivers (thank you Mr Majed!) went out of their way to ensure we were comfortable and happy. Thery were careful and considerate and made us feel completely relaxed. Everyone was super helpful and polite. The organization was perfect. Thank you Mr New Mon for your interest during the trip to make sure everything was going well. It was an amazing experience with superior service!. I would definitely recommend everyone in Spain using your services.
Olga (Merino family) -
Madrid (Spain)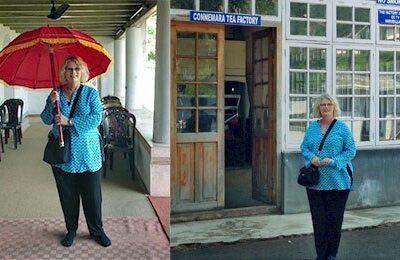 I found NewMon and The Indian Journeys by reading TripAdvisor Forums. I contacted him and he was professional and helpful in his prompt reply. I had a very short time to visit Kerala and would be traveling alone, so I wanted everything planned carefully. NewMon helped with every detail and had great suggestions based on the travel logistics and my interests. I was able to stay in 2 wonderful resorts, visit Periyer Reserve, enjoy an elephant encounter, tour a tea plantation and spice gardens. My driver Santhosh was with me the entire 4 days and transported me to the airport for my flight home. NewMon called every evening to make sure all was well and paid a visit in person to meet me prior to my departure from India. I was very pleased with the planning and professional follow up. I would definitely recommend and use again should I return to India.
Pamela -
Bainbridge Island / Washington, USA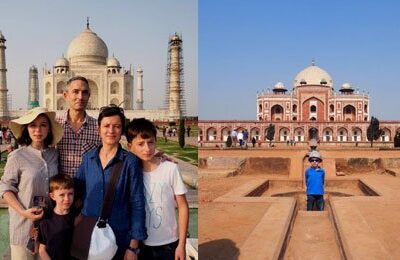 Dear Mr New Mon, We are back in London, amazed that a city which seemed so busy and frenetic to us now seems so calm alongside the places we have just visited in India! Having everything so well and seamlessly organised for us by you made what could have simply been exhausting into an exciting and stimulating experience. We are delighted to have renewed our contact with India at a time when it is changing so rapidly - it really feels like a place that has great plans and is set to achieve them as quickly as possible! I will post a review on Trip Advisor as soon as I get the chance. Thank you again. All the best,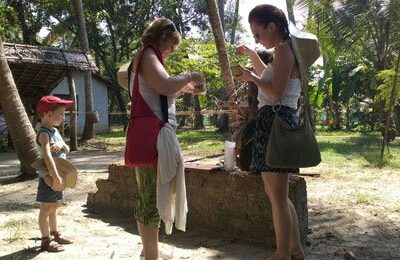 It was my second vacation in India what was organized by New Mon . When I decided to come again I had no doubt about who will organize my trip. Especially because I was traveling with my 6 years old child and my best friend who have never been to India . I had to be sure, that everything will be perfect. New Mon had met again with my expectations. Our one-month-long holiday was hilarious, full of incredible experiences, adventures and last but not least a beautiful week at lovely beach. We were always sure, that we are in the best hands. New Mon organized the best holiday for us and we are very grateful to him for his perfect services.
Eszter,Anni and Alex -
Budapest, / Hungary
Dear Newmon, It was our first trip to India and we have greatly appreciated the organization you have made for our visit of Tamil Nadu and Kerala. We had the best itinerary, comfortable hôtels, a very good and helpful driver (hello to Pradeep) and a good car... We came back to Paris with beautiful coloured and kind souvenirs. We would like to thank you for that and assure that we shall warmly recommend your agency to anyone who would like to visit India and more especially Tamil Nadu & Kerala - Let's keep in touch ! Cher Newmon, C'était notre premier voyage en Inde et nous avons grandement apprécié l'organisation que vous avez faite pour notre visite du Tamil Nadu et du Kerala. Nous avions le meilleur itinéraire, des hôtels tout à fait confortables, un très bon et aimable chauffeur (bonjour à Pradeep !) et une bonne voiture… Nous sommes rentrés à Paris avec de magnifiques souvenirs très colorés et souriants. Nous souhaitons vous remercier pour cela et vous assurer que nous recommanderons chaudement votre agence à tous ceux qui souhaitent visiter l'Inde et notamment le Tamil Nadu et le Kerala. Nous resterons en contact !
Nicole & Haïm MIZRAHI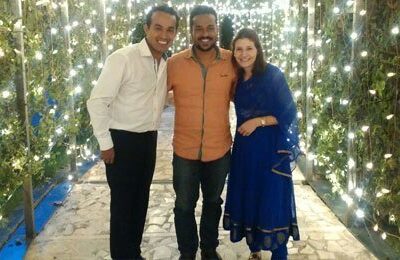 Last December I travel with my girlfriend around India, Rajasthan and Kerala. If you are planning to travel to India, be prepare for an amazing country but also my advise is to prepare your travel really well. To define where to go is a challenge; this was our first step with the India Journeys, they gave us really good recommendation about the different places to visit according to our expectations and budget. We decided to book with them a package for Kerala, and travel in Rajasthan by our own, and I won't recommend to travel in India without a travel agency, especially if you are planning to visit different cities, and it is your first time in India. It is better to have a small travel agency, like the Indian Journeys, which personalize the travel as you want and take care of everything. In Kerala, The India Journeys organized for us a perfect romantic travel, with a professional driver, and really good hotels. New Mon, our travel agent, took care of everything including some train tickets for Rajasthan that I couldn't book online, he also organized for us a romantic dinner in a fantastic place, the best romantic dinner that I have ever had.
Mr.Ivan Nunez & Ms. Natalia -
Bogota, Colombia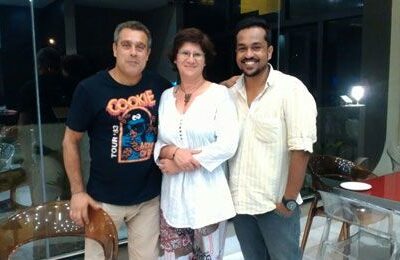 This was our first trip to India and it did go well. Thanks to Mr. New Mon and team for arranging everything well.
Mr. & Mrs.Mariano B -
Madrid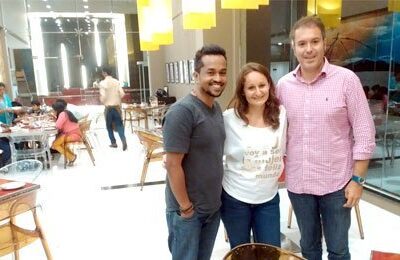 We were travelling with The Indian Journeys for almost 2 weeks last September. They designed a complete tour around the South of India. The communication was really fluid. We were working together in the itinerary and New Mon suggested me new destinations and touristic attractions even during the tour. The hotels suggested by him were really nice and close to European standards. We used a car with chauffeur. Very professional and serious driver. Most of the time your life is in his hands. New Mon took care of us during whole the tour. No surprises, everything as planned. We took the decision of booking with them based on the reviews on TripAdvisor. It was safe and a successful decision.
Ms.Maria & Mr.Juan -
Madrid,Spain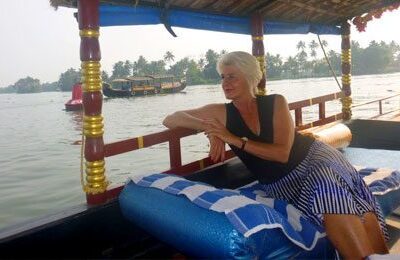 Thank you very much for your courtesy and care on my February 2015 trip to Kerala and Tamil Nadu. You showed your care by providing me with a very personable and knowledgeable driver, who was one of the best drivers I have ever experienced, who kept me feeling safe and secure in the very comfortable sedan that was provided for me. I would not hesitate to recommend him, Rahul, to anyone who is considering a trip to Kerala/Tamil Nadu. I would thoroughly recommend your travel agency to all that are considering a visit to India.
Veruschka Usenko -
Melbourne, Australia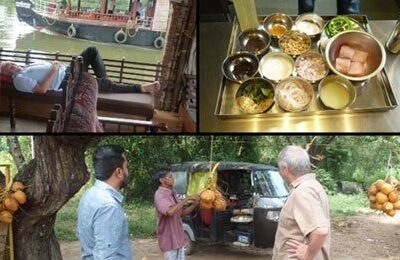 What a wonderfully relaxing time New Mon (The Indian Journeys) organized for us in Kerala – starting at the friendly Kochi Fort House where we experienced amazing meals, the Chinese fishing nets and site seeing experiencing delightful tuk tuk rides. From here to the Deshadan Backwater Resort before an enchanting overnight's stayed on a house boat where we purchased fish that the crew prepared for our dinner. Then to the Marari Pearl for 3 nights (where we were upgraded to a room with our own pool) which gave us just what we needed - relaxation. Here we were able to wonder on the beach and mix with the fisherman while taking in the local atmosphere. All in all a time we will never forget thanks to New Mon's thoughtful organization.
Raema and Maurie -
Victoria Australia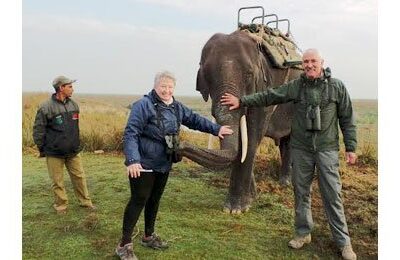 Hi, Just back from our fifth Newmon holiday, Karnataka, Sunderbans and Assam this time. We had a terrific trip and were so pleasantly surprised in Assam. Thank you for all your work, we appreciate it.
Barbara & Mick Woodford -
Exeter / United Kingdom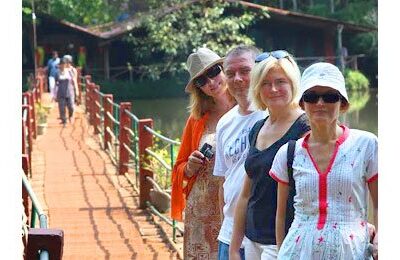 Dear Newmon This was our first trip to India And along with the Office of the Indian Journeys to us all organized-lived incredible moments ,which we never forget. Everything was professionally polished, driver-also our guide and guardian-was responsible and polite. Featured 100 percent, Revelation. Sincere greetings from Poland -Izabela, Jerzy, Barbara and Maria
Izabela, Jerzy, Barbara and Maria. -
Poland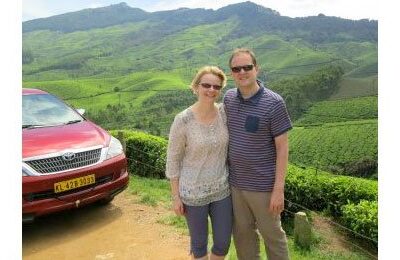 We very much enjoyed our trip to Kerala and Tamil Nadu in October 2014. Thank you for your patience with our many questions and changes to the program in the planning stages and for arranging such lovely accommodation and activities. A special thank you to our fantastic driver who's experience and skills shone through. We were in a very reliable, capable pair of hands. We have very fond memories of our wonderful time in South India. Thank you for helping us organise such a special holiday.
Amanda and Edmund Steele -
Wakefield / England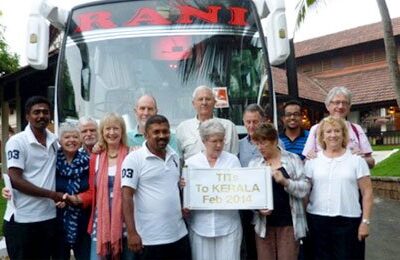 Hello Newmon, What a wonderful holiday we all had, thanks again for all your efforts. Pass on our best wishes to Rajesh and Manoj. We often think and talk about our wonderful holiday in Kerala and hope to return sometime. Lots of our friends are interested. All was brilliant. TIT's Group, UK Mr Peter Edmund Jackson & Mrs Jennifer Margaret Jackson Mr Peter William Dunn and Mrs Laura Mary Dunn Mr Michael Ernest McKeown and Mrs Patricia Mary McKeown Mr Richard Alan Barden and Mrs Ann Denise Barden Ms Janet Laurine Manktelow and Mr Jeffrey Tye
TIT's Group -
United Kingdom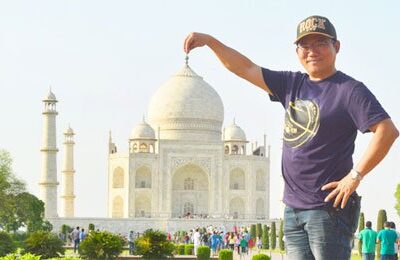 Hi New Mon, Overall it was a good experience and I will certainly use your service should I be travelling to India.
Mr.Daniel Wan -
Singapore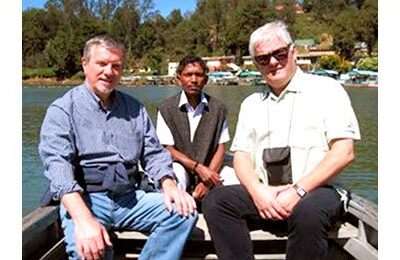 Good Morning Newmon, It is now two weeks since we returned from our magical 34-day trip to Southern India, all organised, very professionally, by you. You were very attentive to our specific requests to develop a 'tailor made' itinerary and the beach holiday breaks allowed us to rest for a few days before continuing our journey. It all worked like clockwork. The car provided was spacious and the driver (Michael, shown in the picture taken on Ooty Lake) had good enough English and was very skilled, fun and helpful. All in all, we had a wonderful holiday and you, by your kind and attentive service (ringing us every day to check on our wellbeing!) made all the difference. We felt safe and well looked after throughout the trip. It was also a pleasure to have dinner with you when visiting Kochi. We would highly recommend your company to those who are looking for a more independent way to travel in India. We have just posted a review of our trip on 'Trip Advisor'.
Mr. Gerard Collet and Mr. Malcolm Hignett -
London / UK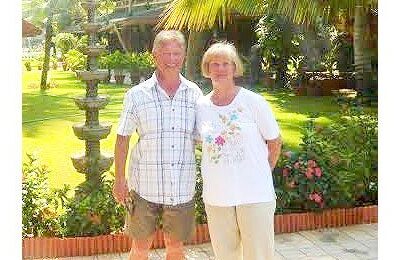 Good afternoon Newmon I hope you and the family are fine and The Indian journeys is busy ..Thank you for one of the most wonderful vacations we have had , the flight home was fine but back to reality now , with fond memories of your very kind hospitality and first class service . It was very nice to meet you and thank you for a very fine evening ,We thought the state of Kerala is beautiful and we will return soon. Please also thank your transportation specialist and pass on our kind regards to our driver Rajeev for his expert local knowledge .. Thanks again and all our best wishes to you and the family
Andy and Chris -
United Kingdom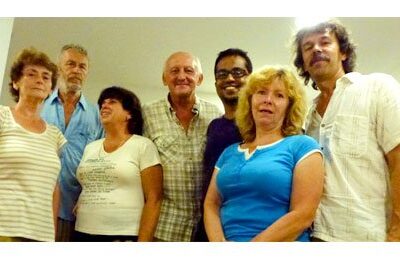 Newmon, Greetings from the Czech Republic. The journey back was good only the plane was an hour late. Thank you very much for preparing our trip. Everything was good. Accommodation and car was good too. We have a wonderful experience. Once again, thank you very much. Regards
Zbynek Novacek & party -
Czech Republic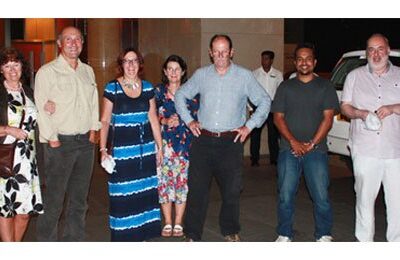 Newmon, Just a quick thank you for organising such a wonderful tour of Kerala. The accommodation was excellent and the itinerary was perfect. The memories of the trip will be with us for a very long time. We have no hesitation in recommending your company to future travellers. Regards
Mr. Neil Simms & group -
Nottinghamshire / UK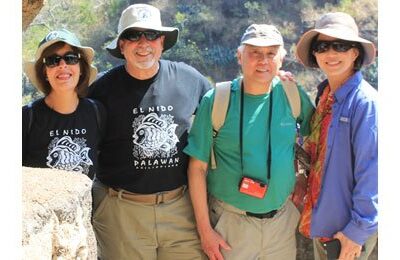 Dear Newmon, Hope all is well! We arrived home late Saturday afternoon after two very long flights. All is good at home. Ramon, Alfonso, Elisa and I wanted to thank you for a great trip and also for the delicious dinner on our last evening. The wonderful memories of this very special trip will remain with us always. Feel free to use us as reference for future clients. The best to you always,
Laura & Ramon Arteaga, Elisa & Alfonso Wong -
Chicago / USA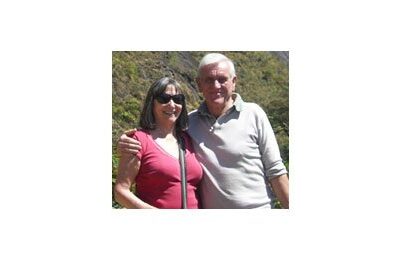 Good afternoon Newmon, Gwen and I are just getting used to the cool UK weather after the warmth of Kerala. Such nice memories, all the colours, the friendly smiles from the schoolchildren, fantastic hotels like the Kumarakom lake resort and all the other good hotels. The whole holiday that you organised was first class with no hiccups anywhere! We enjoyed all the food, no bad stomachs at all I wish that we could have stayed for longer! Many thanks for the good service that you gave us.
Stuart and Gwen Brown -
London / United Kingdom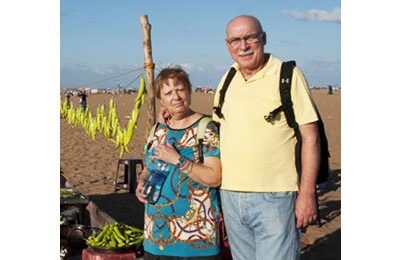 My wife and I have traveled 3 weeks in Tamil Nadu and Kerala during the last Christmas holidays entrusting ourselves to travel agent THE INDIAN JOURNEYS. The travel program has met our expectations and the service offered by THE INDIAN JOURNEYS was flawless. Never a problem. During the trip we changed 13 hotels and all of them have proved equal to the budget that we had pre-set. Furthermore the ones outside the cities lay in beautiful locations The car service was excellent too- The friendly and prepared driver juggles very well in city traffic and in the wide open spaces. This enabled us to discover the scents of India, savour its food, understand the habits and meet a lot of people. Every day Newmon asked either us or the driver how the trip was going and this made us feel as if we were at home. The excitement of the trip was unforgettable and if we return to India we are going to entrust ourselves again to Newmon and his collaborators' experience. Padova (Italy), 9 february 2014 Antonio and Tiziana.
Antonio and Tiziana -
Padova (Italy)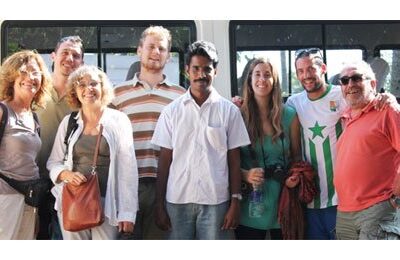 "My family, some friends and I we did a 9 days trip in Kerala in Christmas 2013 with The Indian Journeys. Thanks to The Indian Journeys organization (which I have to say that it was very easy to work on it and helpful staff) we could visit the most iconic parts of Kerala on this time, travelling with a wonderful Van for 10 people and with a very friendly driver. The hotels were we stayed were good, new hotels and well managed, especially the Hindustan Beach Retreat in Varkala. The food in the restaurants that Newmon or the driver suggest us to go were delicious, and the activities programmed also very nice! And the Christmas and New Year's Eve gala's were very funny, something really unexpected! The only negative thing is that we just had 10 days....I wish I could extend our trip for a couple of weeks more!"
Mr. Ignasi Capellà Ballbé & Party -
Barcelona / Spain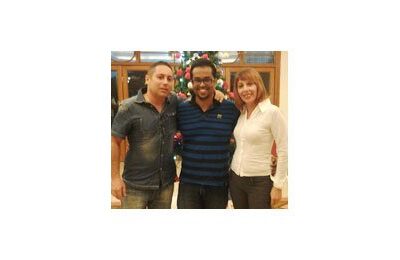 After having contacted a lot of Indian travel companies, I decided 8 months ago to give my trust to The Indian Journeys and New Mon. It was a great choice!! Tour was organized in every detail, all hotels satisfied our needs and more, our driver Mr. Naraynan was excellent, punctual and available. New Mon every evening called us to have information about our trip; he loves his job and he shows it, he's very good, like a friend!! If I'll come back in India I know with who.
Carlo Baffi & Irene Geraci -
Pavia / Italy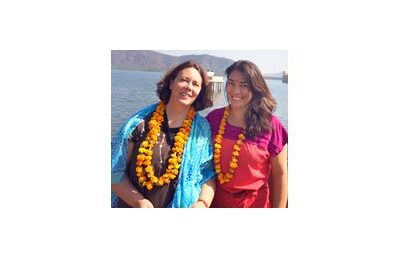 Hi New Mon, Happy New Year! I owe you a long overdue note of thanks for our trip to Jaipur, Agra, and UP in November 2013. That was my fourth trip to India, and you made it by far the easiest. Things don't always run according to plan in India, but with your coordination we had no unpleasant surprises. We thoroughly enjoyed our guide Mr. Sharma in Jaipur, but the real star of our trip was our driver, Manoj. Not only an excellent driver, he was friendly, reliable, and always knew where he was going. (That last bit is extremely important - I've gotten lost in so many cities in India because of a lack of signage and/or addresses. The fact that it didn't happen while in his car was amazing.) Kudos to you and your team. On my next trip, New Mon & The Indian Journeys will be my first call!
Rashmi Sachan & Mary Sawyer -
New York / USA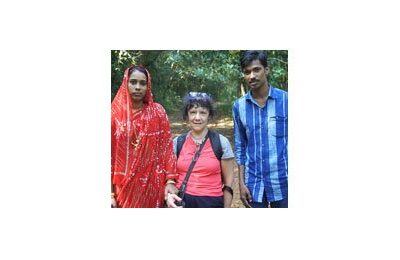 "In November I was in Kerala for a week, visiting Thekkady, the fantastic Alleppey backwaters, Kochi and finally Wayanad. I have been very happy with NewMon assistance and organisation. The houseboat tour was absolutely fantastic, as well as the Kochi hotel. A special thank you to the drivers, who took me everywhere and were very caring. I would definitely recommend The Indian Journeys to anyone who is going to India!"
Rosa Angela -
Ragni DVM, DipSPCA MRCVS / London, UK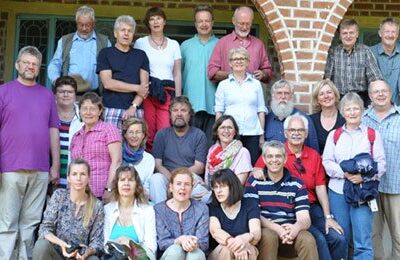 Hi New Mon In Time, good Pullman, good escorting, good prices and good connection. You made our Group travel perfect!
Evangelical Lutheran Church Group -
Lübeck – Lauenburg / Germany