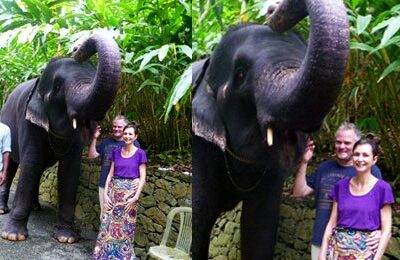 Having just returned from a fabulous trip to Kerala, I have no hesitation in recommending The Indian Journeys and Mr Newmon. As part of our trip, The Indian Journeys organised a weeklong tour to experience the tea plantations and spectacular scenery of the Western Ghats, the spice plantations of the Cardamom Hills, elephant riding and bathing (great fun) in Thekkady, and luxury cruising in a houseboat on The Backwaters. From the first contact following our enquiry, right through to end of our trip, the service provided by Mr Newmon was exceptional. A brief call from Mr Newmon each evening to check all was going well was one example of the attentive service The Indian Journeys provide. When our itinerary was disrupted by a local strike, Mr Newmon calmly and quickly contacted drivers and guides to readjust our itinerary to ensure we didn't miss out. Our driver was very experienced, polite, punctual and helpful and the guides were knowledgeable and friendly. You'll be in very safe hands if you use The Indian Journeys.
Mick & Janet Philpotts -
Newbury / UK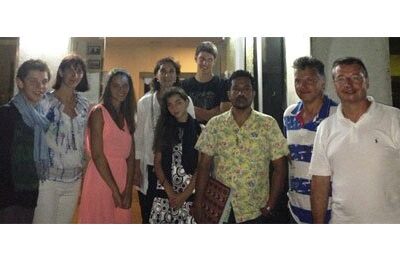 Dear New Mon,, Good evening, Here we are back home, Thank you again for the tour of N. India you organised for us. it'll stay in our minds.
Mr. Renaud & Family, Mr. Laurent & Family -
Lyon / France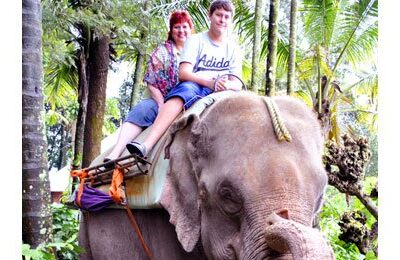 Good day Mr Newmon So good to hear from you! Yes - we've travelled safely back home. I want to thank you and your company for a wonderful tour! We've enjoyed every moment so much !!! Thank you for your professional handling of the tour - the hotels were good, activities very insightful and our driver was so professional and competent. This was one of the best tours ever! I would highly advertise your company and hopefully come back to India in future, using The Indian Journeys again.
Cornelia and Corne Prinsloo -
Al Ain / UAE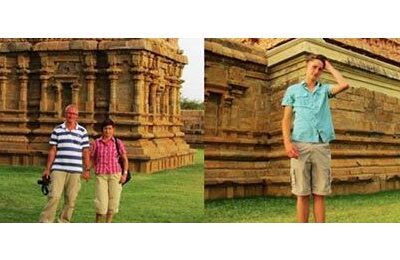 In English The Indian Journeys " is absolutely trustworthy and very competent.The organization by Mr. Newmon has been exactly as we had imagined it to be.Itissimply an experiencedcompany. At our drivers and attendants Mr. Dever we always felt safe. He also informed us with a lot of local information's. He was the perfect travel agent! It was done as a round trip you can imagine! Also with unforeseen Actions. Mr. Dever was also a very accurate, punctual and always cleans his vehicle entertaining supervisor. As a supervisor wants to be everywhere! In summary, we would like to sincerely thank "The Indian Jouneys" very much for the excellent organization of our trip through Tamil Nadu. "The Indian Journeys" with Mr. Newmon is highly recommended. In German " The Indian Journeys" ist ein sehr kompetenter und absolut vertrauenswürdiger Reiseveranstalter! Die gesamte Reiseorganisation mit Herrn Mr. Newmon hat genauso funktioniert wie wir uns das vorgestellt haben. Es ist einfach gesagt eine erfahrene Agentur! Bei unserem Fahrer und Betreuer Mr. Dever haben wir uns auch jederzeit sehr sicher gefühlt. Er hat uns auch sehr viel lokale Informationen mit auf den Weg gegeben. Er war der perfekte Reisebegleiter! Es war eine Rundreise wie wir sie uns vorgestellt hatten. Auch mit unvorhergesehenen Aktionen! Mr. Dever war ebenfalls ein sehr pünktlicher, akkurater und sein Auto sauber haltender Betreuer! So einen Betreuer wünscht man sich immer auf Touren! Zusammenfassend sei gesagt, dass wir uns recht herzlich für die Freundlichkeit und die perfekte Organisation unserer Rundreise durch Tamil Naduvon "The Indian Jouneys" bedanken möchten. "The Indian Jouneys" mit Mr. Newmon ist auf jedem Fall eine Empfehlung wert!
Jens Broedner Anett Broedner Nils Soeren Broedner -
99441 Kiliansroda / Germany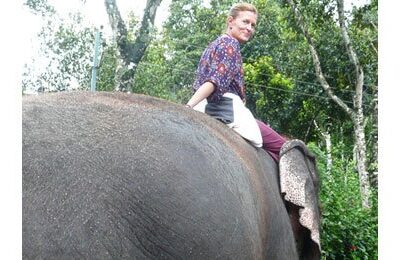 It is my pleasure to say that in my many years of traveling the globe with endless tour companies ( I have toured through 20 + countries), I have never met a man in the travel industry with greater integrity than New Mon. He put his entire heart into my trip. From our first email to the very last I felt like I was in the hands of a family member who wanted nothing more than for me to have the trip of a lifetime. He showed great warmth and kindness every step of the way. As a single female traveling alone, I felt very safe with the driver he chose, a man who showed me great respect and did his job with pride and sincerity.
Bethany Grace Cantin, -
Boston / United states of America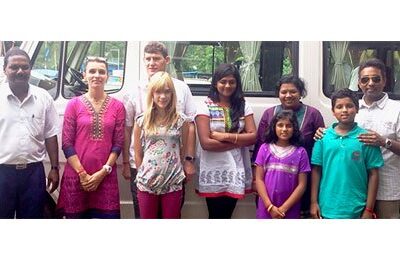 No exaggeration, this is the best tour company and people we have ever worked with. We thoroughly enjoyed our South India tour (Chennai – Mahabalipuram – Bangalore – Mysore – Ooty – Kochi – Madurai – Trichy – Tanjore – Pondicherry). The arrangements were superb! A special note about our chauffeur Mr. Reddy! He was punctual everyday and courteous too. We strongly recommend this company and we would use them again. We wish every success to Mr. New Mon & 'The Indian Journeys'
Mr. Michael Desartine -
Paris / France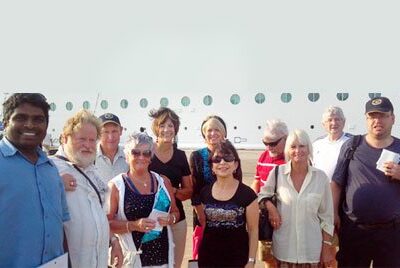 "Our group of 10 travellers (Royal Caribbean Mariner of The Seas, 26th May 2013) were very impressed with the professionalism of New Mon, Arun, Girish and their team from "The Indian Journeys" We were collected from the ship in a clean air conditioned mini bus. Our drive to the houseboat was on a well maintained, not too busy road where our English speaking guide gave us an insight into the lives of the people and information on points of interest. We boarded our traditional style thatch-roofed houseboat, which is unique to Kerala (but fitted with solar panels, air conditioning and a neat clean kitchen) in the town of Alappuzha Our idyllic houseboat journey cruised us through palm shaded vine entwined backwaters where little communities were living their peaceful lives., with us as their curious, privileged audience. We were greeted with smiles, cheers and much waving and made to feel welcome. With the fragrance of curry in the air we eagerly anticipated lunch which was served at "Citrus" a great little 4 star hotel. Lunch was a good variety of foods with a very tasty Chicken curry. Two 750ml bottles of beer per person challenged each one of us! We cruised back all too soon We were returned to our cruise ship well before boarding time feeling exhilarated by our experience. All arrangements were carried out with respect and we felt safe in the very capable care of the smiling New Mon and his team. All 10 of us had a fantastic trouble free experience!
Tripodi Margaret Teresa Joy and group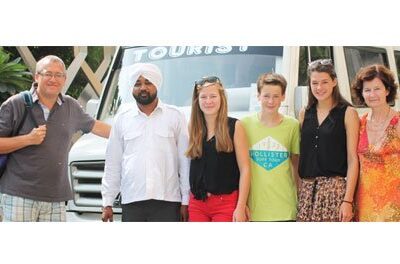 Hello New Mon, Fine that you have contacted my husband again this afternoon. It's pleasant to hear that you care so much about us. Now, I can say to you that we all liked it a lot! We enjoyed visiting all cities, from Mandawa, over Jaisalmer, Jodhpur, Udaipur, Jaipur, Pushkar, Agra till Delhi. We loved visiting all palaces, forts and of course, the top of the bill, the Taj Mahal, a building that everyone must have seen at least once in his life! We stayed in incredible hotels, really palaces!! Some of the those new, others old! But we enjoyed all of them! Also the guides were very good. Luckily that we took them, because with all those words in Hindi, all those streets were you can get lost, I understand now why it is so important to have them. They all gave good information about the city, but also background information about life in India, their habits, politics, nature, ... And , last but not least, we loved our driver. He brought us everywhere, during the 1800km, that we have driven. Unfortunately, roads are so bad in India, that it sometimes took a long time to get somewhere. Once again, thanks o lot! Best regards and maybe till later ...
Ilse Van Mensel & Family -
Londerzeel, Belgium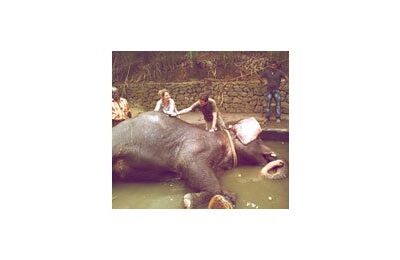 Thank you for the wonderful 2 week Kerala tour. We were very happy with the service, the hotels, houseboat, the driver and the assistance of "The Indian Journeys".
Mr. Alessandro Marino & family -
Sabaudia, Italy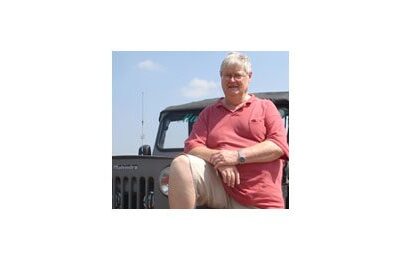 I recently experienced a tour of the Kerala state of India organised by Newmon of The Indian Journeys. I traveled alone with driver, Prem, in an airconditioned vehicle and stayed at very good accommodation. We traveled from Cochin to the Kerala backwaters for an overnight boat tour on the lake, visiting various places of interest on the way over six nights in all. It was a wonderful experience, in fact much better than I expected. Very good value for money. I say this from having experienced traveling extensively throughout S.E. Asia and some of Europe. And would recommend these people without hesitation. The food was great also.
Murray & Bendigo -
Australia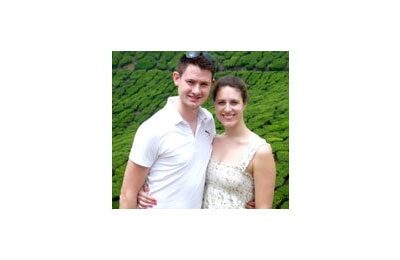 My husband and I visited Kerala with "The Indian Journeys" in March 2013 and had a fantastic time! Our itinerary allowed us to see lots of places in a short period of time, and we thoroughly enjoyed it! From the rich culture in Kochi to the tea plantations in Munnar, the wildlife in Periyar the beautiful backwaters of Alleppey and the beaches of Kovalam - what an adventure! New Mon did a great job and called every night to make sure things were going smoothly. Our driver Premjith made us feel safe and secure the whole time. I would certainly recommend this company!
Mrs. Charity & Mr. Daniel Baxter -
London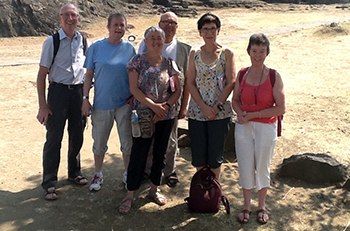 Hi New Mon, Just a note to say thank you so much for organizing yet another memorable trip for us. As before you're organization was faultless, not to mention your excellent recommendations which always prove to be of such interest. Home now and with great memories yet again, India never disappoints. Love the culture, love the food and most of all the warmth of the people, always welcoming, always smiling and what great hospitality. That is now our third trip as you know, the first two being three weeks each and this one a month, impossible to tire of India, always so much to see and do.I have recommended you to friends here already and if you have any clients at all who are looking for a reference we would certainly be willing to reassure them re your total commitment to your clients and faultless organization. Of course there is always the wonderful way you stay in contact throughout the trip to ensure everything is going well, I know of no other travel agents who take such care of their clients. Speaking of clients, we prefer to think of you now as a very good friend indeed. Sending warm wishes from Ireland and hope you and your family are well and happy and that business is thriving. Thank you again !! Thank you again !!
Allison Keith and Jackie Brown -
Ireland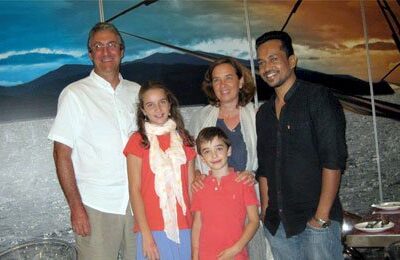 Dear New, Thank you so much for such a wonderful family trip!! Travelling with our children to India (Tamil Nadu & Kerala) was a great and amazing experience. Your constant attention throughout the trip was truly very reassuring. We could feel we had a very reliable "partner" before and during the trip. Everything was very well organised: hotels, driving, etc. and our children will never forget the elephant experience and the boat driving at the Backwaters. What a wonderful country and people! We all hope to go back soon and, for sure, we will count on you for organising it. Let's keep in touch!
Piquemal family -
from Barcelona, Spain