Breathtaking views of Kerala
God's Own Country, Kerala, features some breathtaking tourist attractions that would captivate international visitors. There are hill stations, backwaters, commercial cities, hamlets, and many more places to visit. Visitors come from around the world to experience Kerala's rich culture and tradition and some of the best destinations to visit in Kerala.
Everything else becomes insignificant as you step foot in the lovely paradise. In terms of attractiveness, most significant cities faint in contrast to Kerala. Here are some of the best tourist sites in Kerala that are ideal for family holidays, romantic getaways, and honeymoons.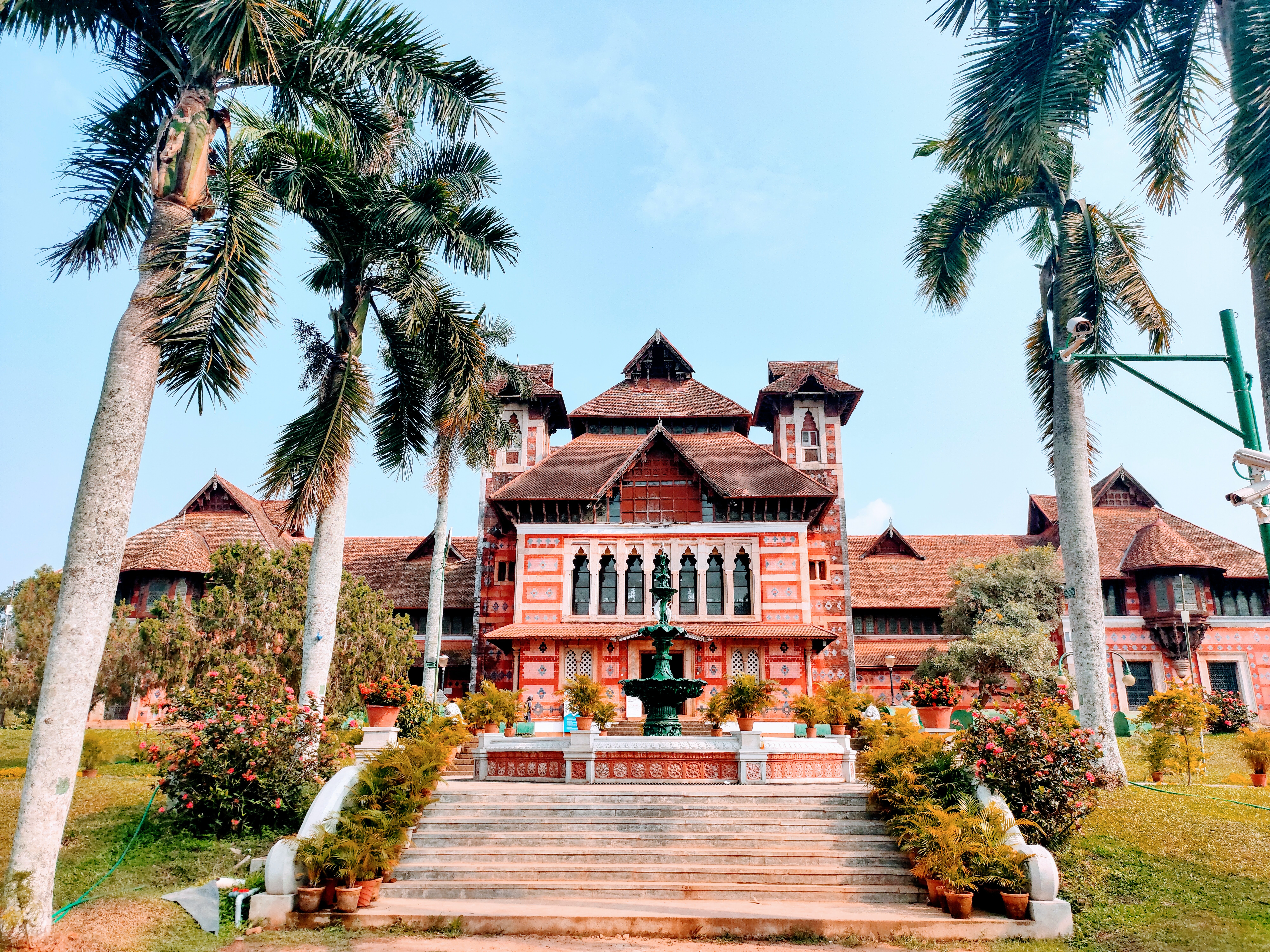 1.Thiruvananthapuram – Kerala's economic capital.
Thiruvananthapuram, also known as Trivandrum, is Kerala's capital city and an enticing combination of a deeply established past with a nostalgic colonial legacy. Trivandrum, constructed on seven hills, has since moved on from its days as a haven for maritime adventurers. Instead, it is a pricey metropolis with charming urban charm and several architectural and historical things to see. This is one of the best destinations in Kerala. Furthermore, Trivandrum is a gateway to the renowned beach villages of Kovalam and Varkala.
Famous Tourist Attractions: Kovalam beach, Aruvikkara Dam, Napier Museum, Neyyar Dam & Wildlife Sanctuary, St. Joseph's Cathedral, Poovar, Koyikkal Palace, Kowdiar Palace,  Anantha Padmanabha Swamy Temple, Agasthyakoodam, Kanakakunnu Palace, Anchuthengu Fort, Peppara Dam, and Wildlife Sanctuary
Best Time To Visit: October to February
Nearest Airport: Trivandrum International Airport
Nearest Railway Station: Trivandrum Central Railway Station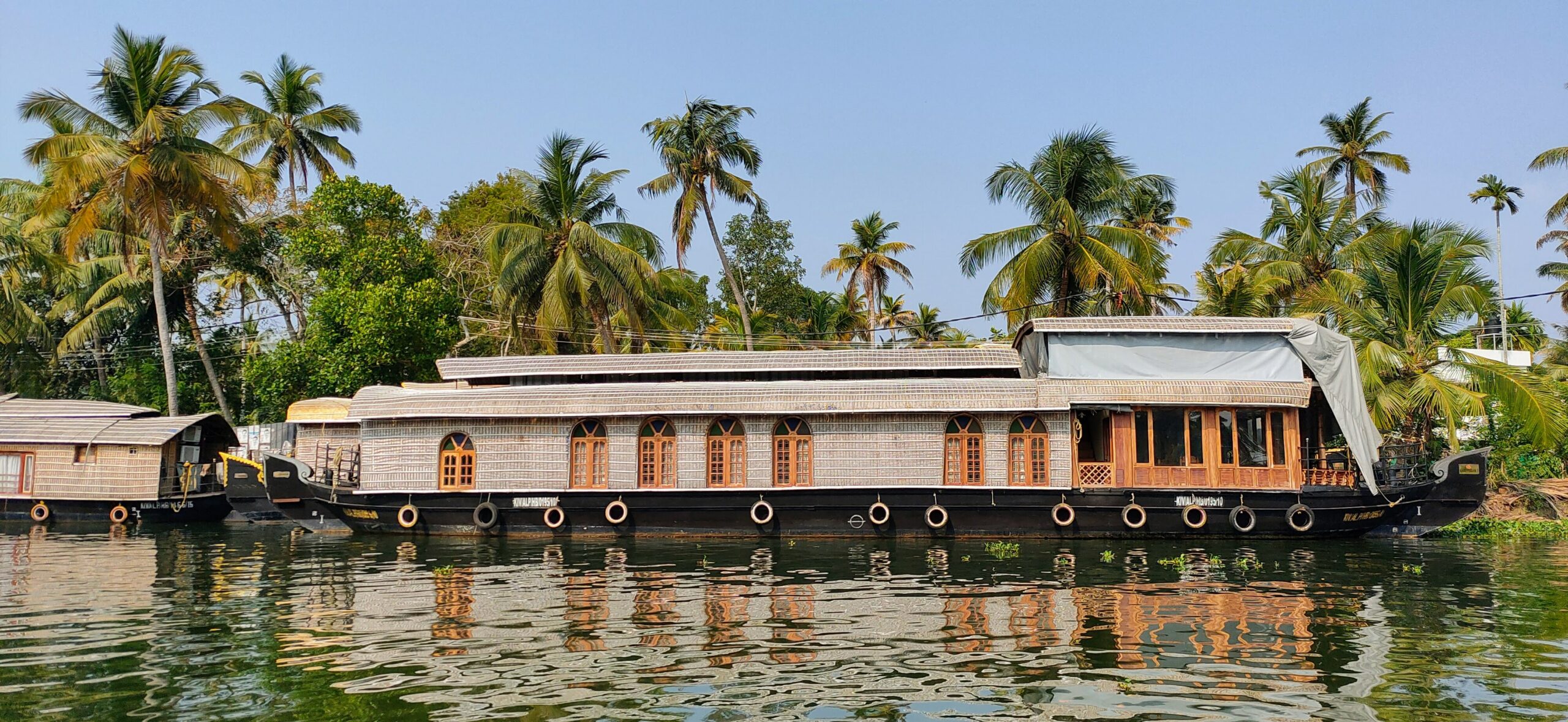 2. Alleppey – The Backwater Oasis
Alleppey is ranked first on this list of excellent places to visit in Kerala with images. Its backwater cruises, houseboat accommodations, and tranquil scenery draw many visitors. It is the most popular location for experiencing some unusual Kerala backwaters. Lord Curzon's portrayal of Alleppey as the "Venice of the East" is not exaggerated. Alleppey houseboat holiday is what visitors want when visiting Alleppey. Alleppey is one of the top tourist destinations in Kerala for your trip. Its stretches of paddy fields, charming churches, intriguing fishing towns, and lakes overflowing with water lilies. If you've never eaten it before, the obsession of Keralites who eat coconut and banana leaves will be an excellent trial for you.
Famous tourist attractions: Ambalappuzha's interests include Marari Beach, Alappuzha Beach Punnamada Lake, Krishnapuram Palace, Kumarakom Bird Sanctuary, Revi Karunakaran Museum, Alappuzha Beach Punnamada Lake, Pathiramanal, and Sri Krishna Temple. Another great pleasure is the Alleppey Snake Boat Race.
Best time to visit-September through mid-May 
The closest Airport – is Kochi Airport, which is 53 kilometers from the city.
The nearest railway station –  Alleppey Railway Station, is within the municipal boundaries.
.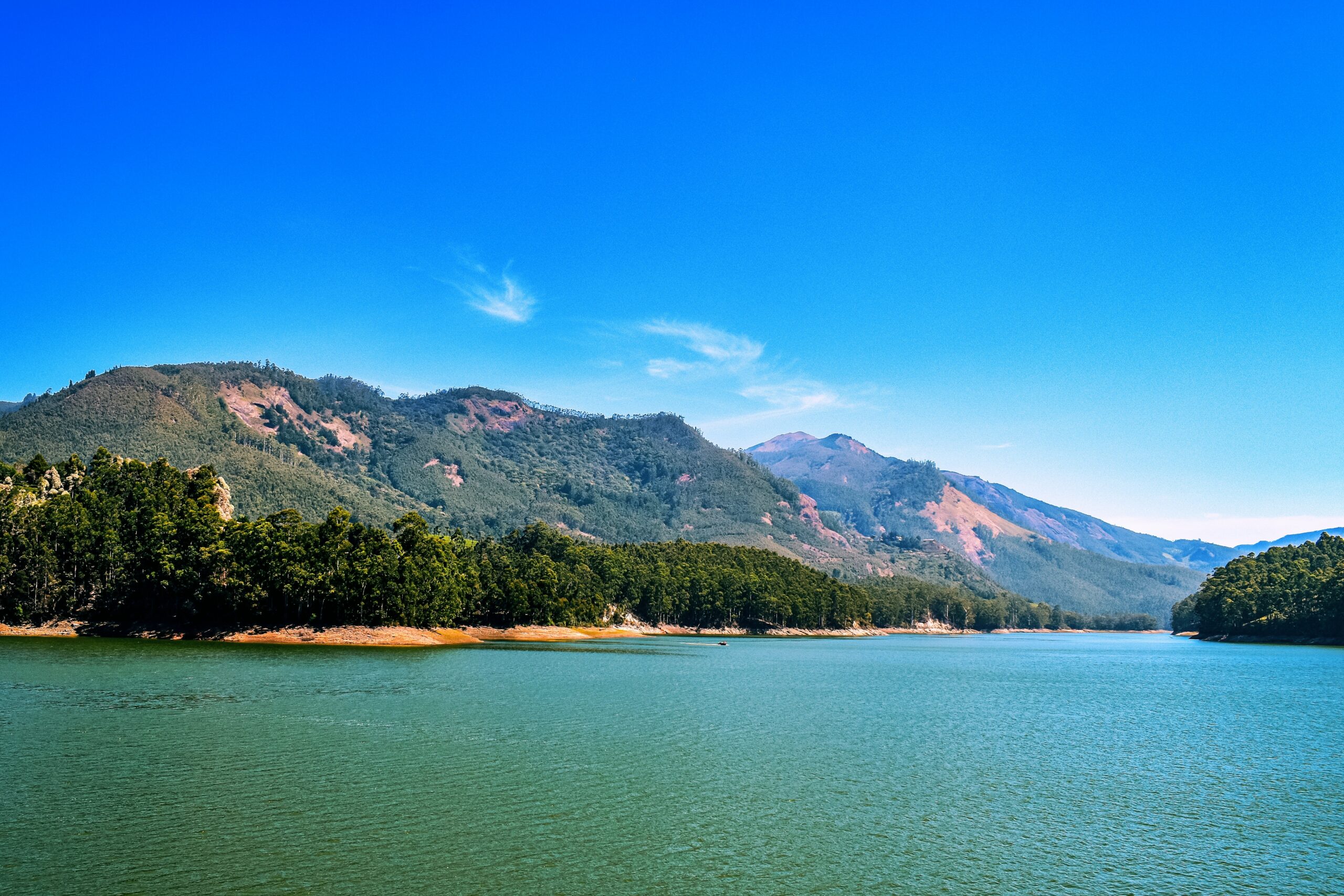 3. Munnar – A Romantic Honeymoon Destination
Munnar, a prominent hill station, is one of the best tourist destinations in Kerala. Munnar sightseeing draws travelers from all over the world. It was once the British summer capital. Munnar is a hill town in Kerala that has become one of the best honeymoon destinations in Kerala, with around 80,000 kilometers of tea plantation, an equal number of fragrant greenery, foggy valleys, and low-flying clouds.
Munnar's cute bungalows, warm homestays, and luxurious hotels and resorts make it the most romantic location among Kerala's top tourist destinations; however, the old-world colonial atmosphere has its own pleasures, making for an excellent selfie drive. At Munnar's most magnificent honeymoon resorts, revel in the exceptional blend of luxury and beauty.
Munnar is especially famous for its Neelakurinji flowers, which bloom once every 12 years. The Kurinji season at Munnar is breathtaking, with the hills and valleys carpeted with Neelakurinji blossoms. Munnar is also a trekker's heaven, offering easy mountain hiking. Visit the wildlife sanctuaries in the Munnar area. Wildlife sanctuaries like Eravikulam, Thattekad, and Chinnar may be visited to witness the magnificence of nature. Visit the Tea Museum to learn about the history of tea and the brewing process. It is also renowned as the spice capital of Kerala. Spices such as ginger, garlic, cardamom, vanilla, pepper, cinnamon, coffee, tea, clove, and nutmeg are grown in Munnar and its surrounding villages.
Key Attractions: TATA Tea Museum, Life of Pi Church, Blossom Park, Pothamedu ViewPoint, Marayoor Dolmens, Top Station, Kundala Lake, Lockhart Gap, Mattupetty Dam, Anamudi, and Eravikulam National Park, Indo Swiss Dairy Farm, Meesapulimala, Cheeyappara Waterfalls, are just a few of the attractions.
Best Time To Visit: October to March
The Nearest Airport- Kochi Airport is around 143 kilometers away from the hill station.
The nearest railway station – is Aluva, which is 110 kilometers from Munnar.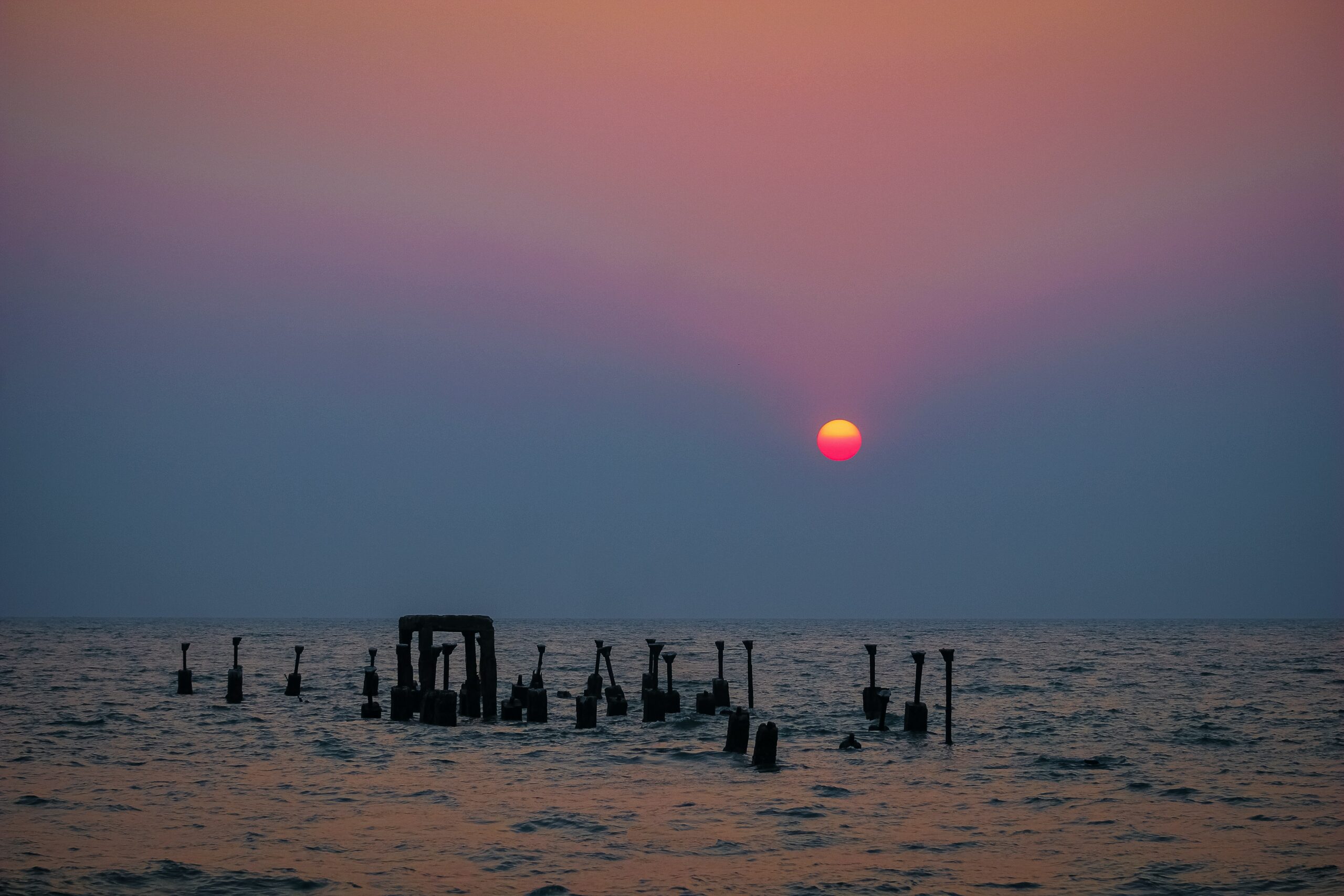 4.Kozhikode – For Traditional Malabar Cuisine
Kozhikode, known as Calicut, is one of Kerala's busiest commercial cities and renowned tourist destinations. The city is well-known for its culture, historical attractions, educational institutions, and gastronomic delights. The city's architecture is heavily influenced by Dutch and British styles. It is famous for its traditional Malabar cuisine, and its unusual spices make it so delectable. Don't miss out on Calicut delights like Dum Biryani, Kallummakkaya, Chatti Pathiri, and Dal Halwa.
Major tourist attractions-Mananchira, Sargaalaya, Payyoli Beach, Kozhippara Falls, Hilite Mall, Kallayi, Tali Temple, Kappad Beach, Kozhikode Beach, Thusharagiri Waterfalls, Kallayi, Tali Temple, and Matri Dei Cathedral are all nearby attractions.
The best time to visit-From September through May 
The nearest Airport- Karipur International Airport in Calicut, about 28 kilometers away.
The nearest railway station –  Kozhikode Railway Station, located within the city boundaries.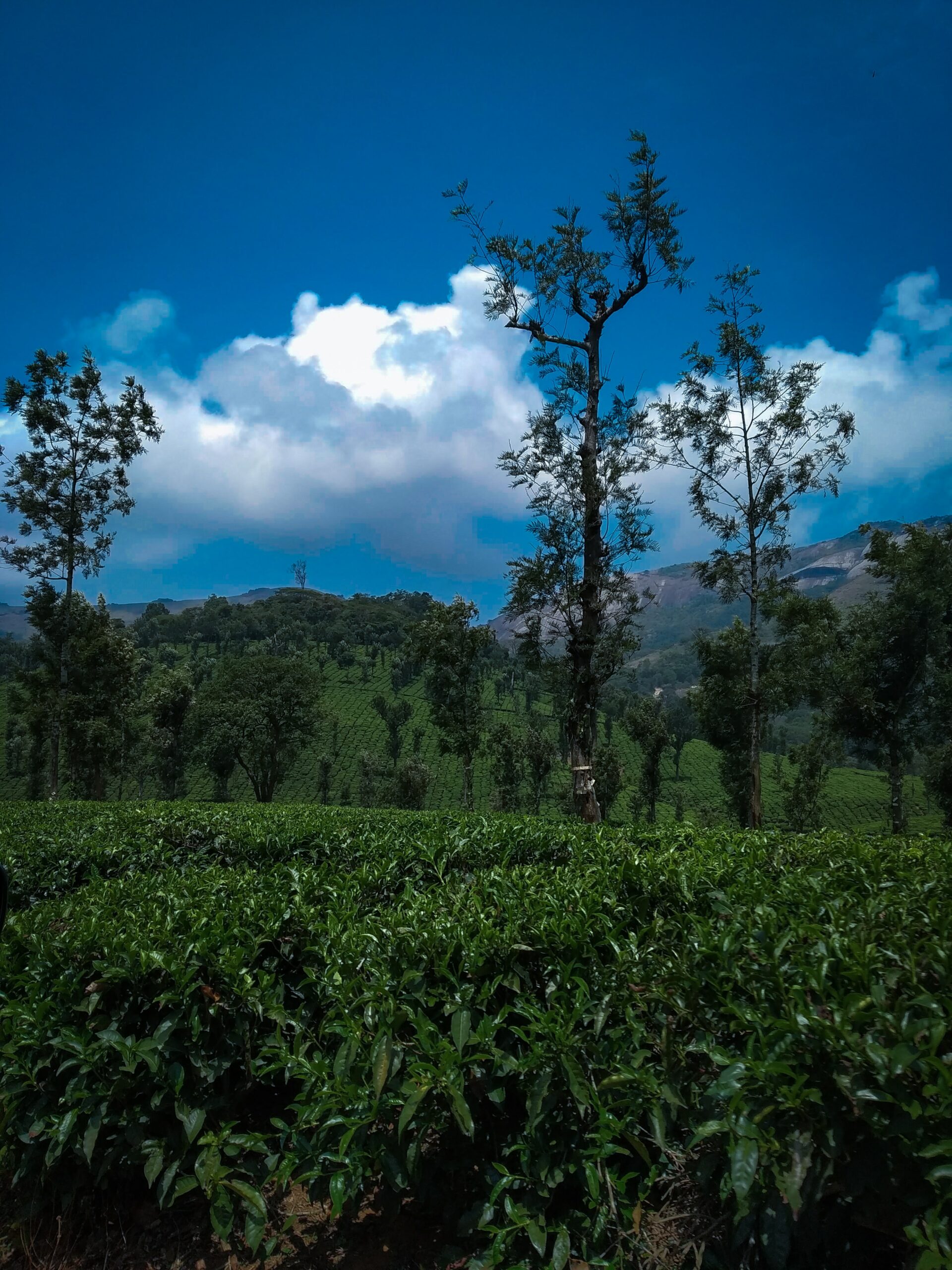 5. Nelliampathy-Poor Man's Ooty
Nelliampathy is one of Kerala's well-known hill stations that you should take advantage of. When visiting Kerala, you should see Nelliyampathy Tourist Places. It is approximately 52 kilometers distant from Palakkad. Nelliampathy is a unique region with evergreen woods, orange, tea, coffee, and cardamom farms, magnificent valleys, and foggy mountains. Nelliampathy, popularly known as 'Poor Man's Ooty,' is also known for its walking routes, great climate, and natural wonders that improve the overall experience. Nelliyampathy is an ideal place for travelers who like to avoid crowds. Bikers regard the location as a biker's paradise. The hill station's name is interesting. Nelli is a divinity worshiped in the area, and pathy is a location.
 famous tourist attractions-Nelliyampathy Hills, Nenmara, Palagapandi Estate, Padagiri, Parambikulam Wildlife Sanctuary, Raja's Cliff, Seetharkundu Viewpoint, Pothundi Reservoir, Nelliyampathy Gardens 
The best time to visit –from October through March 
The nearest airport-Coimbatore Airport (113 km)
The nearest railway station-Palakkad Railway Station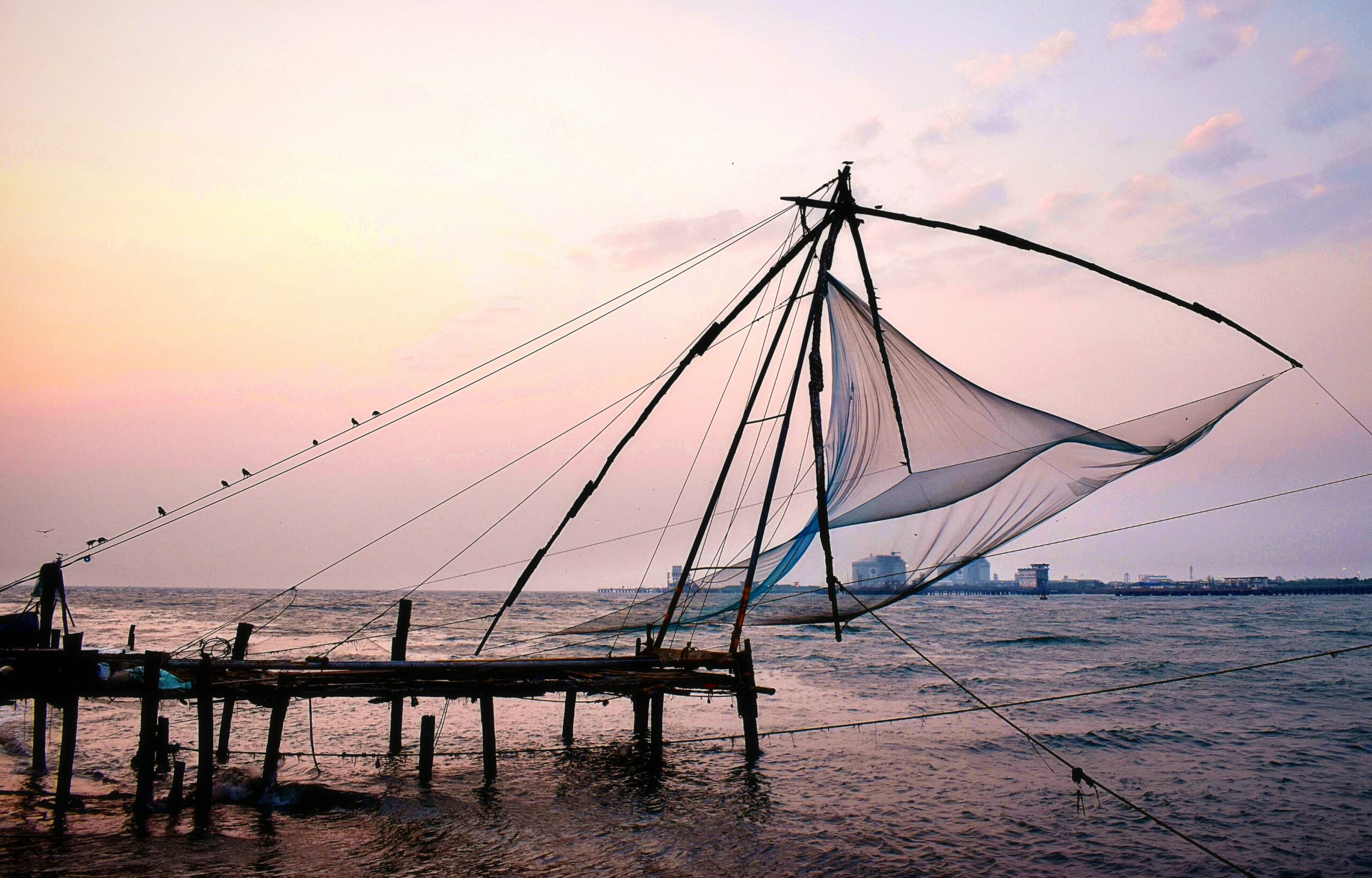 6. Kochi –Queen of the Arabian Sea
In God's own land, Cochin is a large port city. This is one of the best destinations in Kerala and has always been on every traveler's bucket list. It is affectionately known as the Queen of the Arabian Sea. It is an excellent combination of native cuisines and new concepts to provide its guests with the finest experience. Kochazhi, which means "little lagoon" in Malayalam, is the city's name. Kochi has one of the world's best natural harbors. The city is divided into three sections: Fort Kochi, Willington Island, and Ernakulam. Vasco da Gama, whose landing in Kerala 500 years ago marked the beginning of a new trade era between India and Europe. Backwaters, beaches, and traditional spice markets are just a short drive from Cochin. 
Popular Tourist Attractions: Andhakaranzhi Beach, Vypeen Beach, Cherai Beach, Chinese Fishing Nets, Marine Drive, Thrikkara Temple, Fort Kochi, St. Francis Church, Santa Cruz Basilica, Bolghatty Island, 
Best Time To Visit: July to April
Nearest Airport: Cochin International Airport
Nearest Railway Station: Ernakulam Junction and Ernakulam Town are the two major railway stations in Kochi.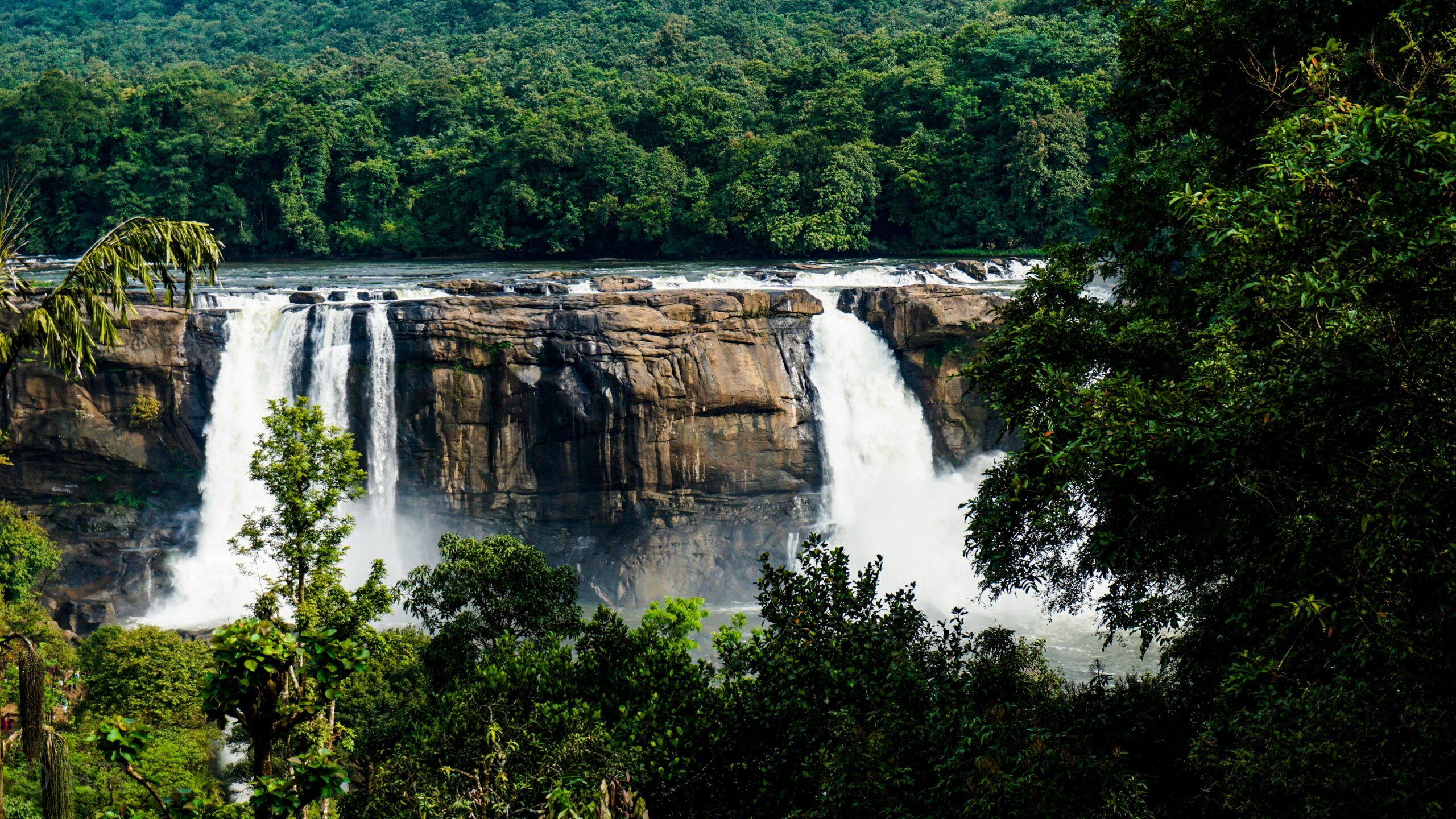 7. Athirappilly-Niagra of India
Athirappily Falls is a magnificent cascade of foamy waves that flows from the Western Ghats' Anamudi highlands.
Athirappilly Falls is the dazzling pride of Kerala and is sometimes referred to as the "Niagra of India." It is Kerala's largest waterfall, towering 1000 feet above sea level at 25 meters (82 feet), with four waterfalls and a width of 100 meters (330 feet). It is the best tourist destination in Kerala, located on the boundary of the Ernakulum and Thrissur districts. It attracts a diverse spectrum of travelers throughout the year. In addition, several streams feed into the waterfall, which drops to 80 feet.
It comes from the Western Ghats' higher reaches, at the Sholayar area's entrance. The Athirappilly waterfalls run through the lush foliage of the Vazhachal forest toward the Arabian Sea, offering a breathtaking sight of glistening water, emerald forests, and blue sky. The majestic waterfalls are worth the trip. The deep woods around the waterfalls promises an enthralling experience by allowing you to see numerous endangered and pandemic kinds of plants and animals. Along with foreign visitors, the beautiful grandeur of Athirappilly falls draws a lot of filmmakers, and the area has been used in several South Indian and North Indian films.
Popular Tourist Attractions-The Vazhachal Waterfalls, , Anakkayam, Sholayar Dam, Valparai, and Malayattur Wildlife Sanctuary
 The best time to visit -Athirapally falls never dries out, and it can be explored at any time of year. Though the waterfall is at its most beautiful during the monsoon season, excessive rains may be pretty inconvenient. So, the ideal months to visit are September through January.
The nearest Airport-Cochin Airport is the nearest Airport to Athirapally, which is 40 km away. 
The nearest railway station-Kochi and Thrissur, are two major railway junctions nearby. The nearest railway station is Chalakudy Railway Station, situated 32 km from Athirapally.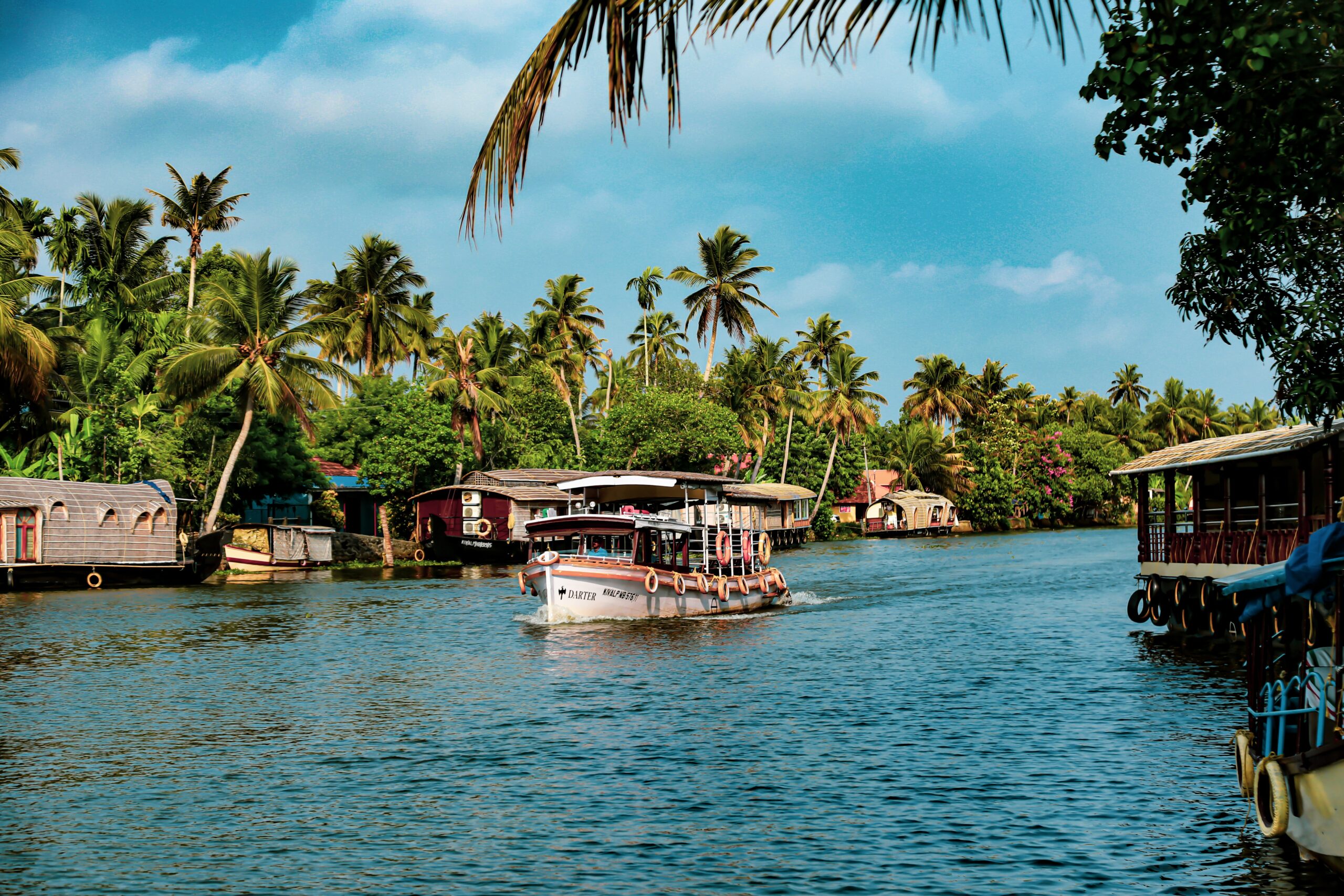 8. Kumarakom – One Of The Most Peaceful Locations
Kumarakom is a group of small islands in Kerala's Vembanad Lake. Kumarakom, the Queen of Vembanad, is the most prominent Kerala backwaters location for traditional houseboat rides and one of the most popular Kerala tourist destinations.
Kumarakom was named after the God of an ancient temple, Kumaran. Kumarakom is also an excellent weekend retreat from Kochi. Kumarakom is an enthralling sanctuary of mangrove forests, emerald-green paddy fields, and coconut trees. The Kerala government has designated Kumarakom as a unique tourism zone to conserve the area's ecosystem. Arundhati Roy, the Booker Prize-winning novelist of 'The God of Small Things,' grew up in the nearby village of Aymanam.
Vembanad Lake is one of India's largest freshwater lakes. The main attraction of Kumarakom is a boat tour through the Vembanad backwaters. There are Country boats and Houseboats available for boat cruises. Every visitor to Kumarakom should take a houseboat trip in the backwaters. The area features abundant marine and freshwater fish, including exquisite karimeen, shrimp, and prawns. During the Onam festival in September, Kumarakom hosts the Sree Narayana Jayanthi Boat Race. 
The best time to visit – is October to March, with the peak season from November to February. The most fantastic time to go bird viewing is after the rain. During the monsoon season, backwater cruising is restricted.
The nearest Airport –Cochin International Airport is the closest Airport at 74 km to reach Kumarakom.
The nearest railway station – Kottayam, is the nearest railway station to Kumarakom (16 km).
Kumarakom could also be reached by boat from Alleppey. Kumarakom is easily accessible by bus from Kottayam. The KSRTC bus service connects Kottayam to all of Kerala's cities.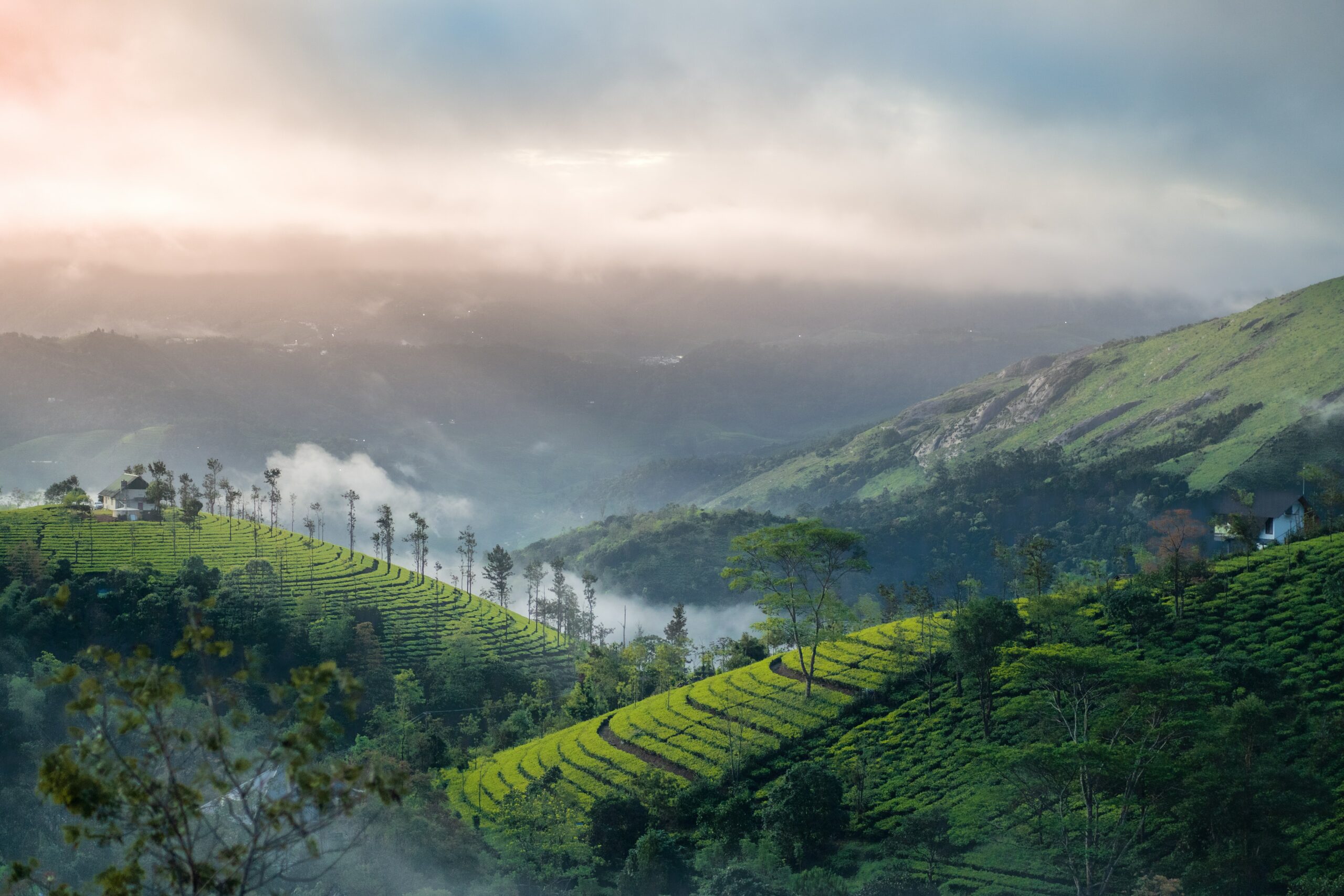 9. Idukki – Kerala's Hidden Treasure
Plan a trip to Idukki if relaxation and refreshment are top priorities. Idukki tourism spots, nestled among beautiful hills and luxuriant woods, entice enthusiastic travelers, nature enthusiasts, and photography fanatics with their incredible natural ambiance and attractions. Idukki, surrounded by scented tea and spice plantations, is unquestionably one of Kerala's most popular tourist destinations, ideal for trekking, nature walks, and bird-watching.
famous tourist attractions- Idukki Arch Dam, Ramakkal, Kolukkumalai Tea Estate, Thommankuthu Falls, Kalvari Mount, Cheeyappara Waterfalls, and Kalvari Mount, Thattekkad Bird Sanctuary or Salim Ali Bird Sanctuary
Best Time To Visit: June to August and November to January
Nearest Airport: Cochin International Airport.
Nearest Railway Station: Theni- 60 km from Idukki.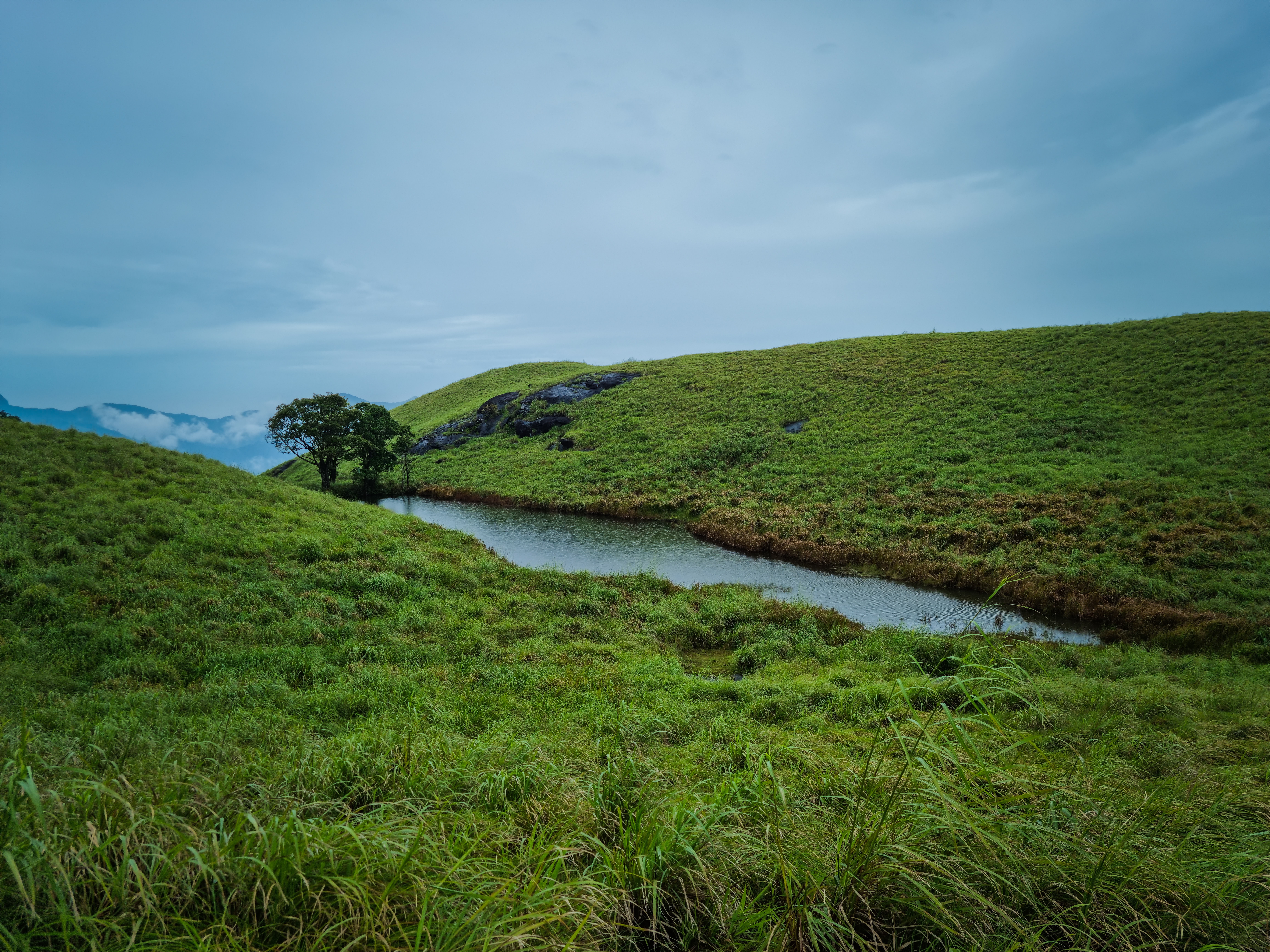 10. Wayanad – the "Land of Heavenly Trails."
Wayanad derives its name from Vayal Nadu, which means "land of paddy fields." Wayanad is one of Kerala's most environmentally friendly tourist destinations. Wayanad tourism is a harmonious blend of natural and man-made history. After all, the region is known for its diversity of cultures, traditions, and tribal heritage. Small, unidentified waterfalls that border the city randomly contribute to the city's attractiveness. Wayanad is one of Kerala's most refreshing woodland destinations, with beautiful green flora.
Wayanad is also well-known for its tea and coffee plantations. After Kalpetta, the main towns in Wayanad are Sulthan Bathery and Mananthavady. These three towns serve as base points for exploring the area. Wayanad has Kerala's lowest population density. Between February and May, tribes hold prominent tribal gatherings and traditional dance performances.
Famous  tourist attractions -Banasura Hill, Thusharagiri Waterfalls, Kuruvadweep, Thirunelli Temple, Puliyarmala Jain Temple, Kabini, Papanashini River, and Padinjarathara Dam, Lakkidi View Point,
Best Time to Travel: October to May; adventurers should visit during the monsoon months of July and August to take advantage of trekking and other adventure sports benefits.
The nearest Airport-Karipur International Airport in Calicut, is about 95 kilometers distant.
The nearest railway station – is Kozhikode, which is 72 kilometers from Wayanad.